SELECTION OF EXHIBITIONS AND PUBLIC PERMANENT PAINTINGS

I am moving on the dance floor, my body is jumping up and down, it is out of control, I do no longer know where I have been, not here. Please, take me even further out on the dance floor, let the sparkle begin, show me all the movements. Let us all join in one collective body. Move. Move. Move.



Move in words about what you see. Here. Painting. Large and small. Drawings. Move my hands. Follow my hands. Color. Cosmos. A god without a religion. Where should I go? Performance. I AM A DISCO BOWL. Words. Installations. I am changing, transforming, moving to the next image created by my hand?

(This is a note I wrote to myself late in the evening, after talking to my dear friend about what I do as an artist. I was trying to explain to her that I do not create ONE thing in ONE media, I explore many medias in many forms and expressions. Most of it has to do with a core need for the intuitive, which is the closest language I have of a spiritual awareness. But I do not have a religion. I do nor either have ONE concept I need to explore all over again in my art practice, I prefer to see my art practice as an intuitive presence of being. But is it possible to be accepted as a professional artist without having a clear concept to preach when being asked? And is it possible constantly to find new ways of painting, drawing, writing, perform and install and still be accepted?

Yes, my dear friend replied.
Because you are a discobowl.

Welcome to the dance floor.)
Næsten Kærlighed / Almost Love
UDSTILLINGSSTEDET in Sorø, DK
March 25 – May 30, 2021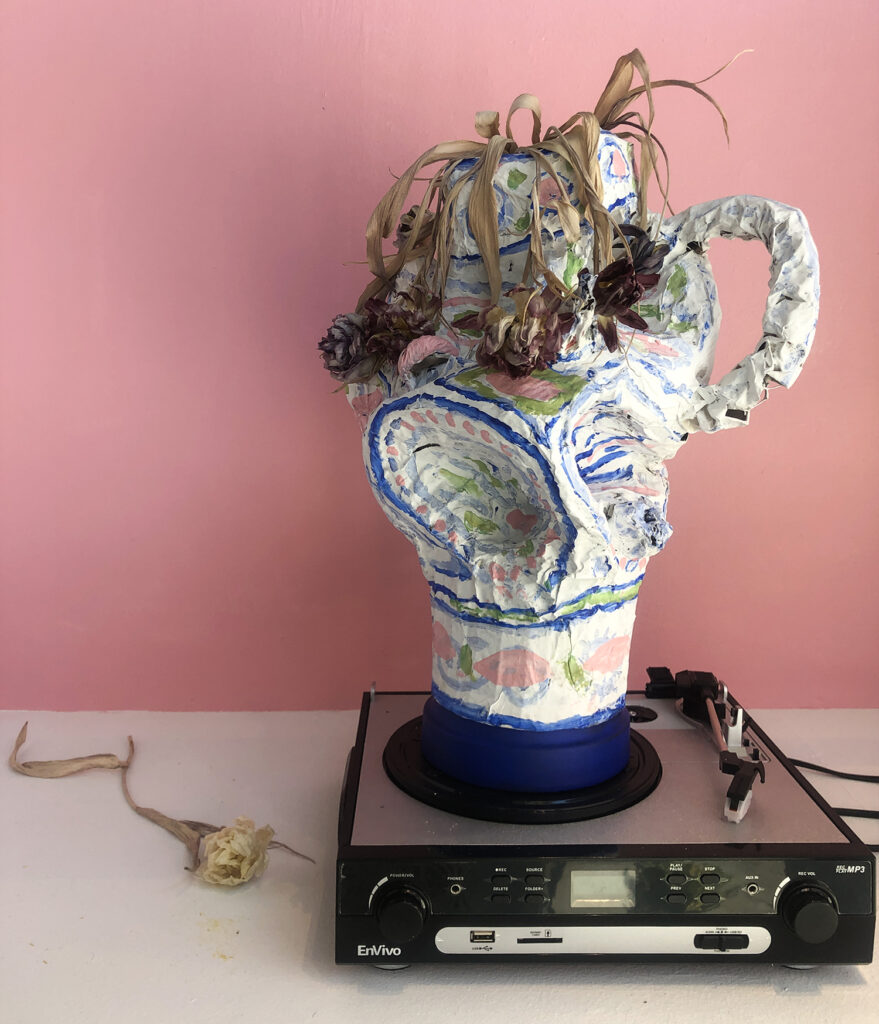 A bouquet of flowers arranged in a sculptural vase placed on a recordplayer. That is the starting point for my installation in the BOX. The bouquet rotates around its own axis in a slow decay. The sides of the BOX are also painted, and I have installed graphic printing in the small room

READ MORE >
ISOLA
ONLINE
Duo exhibtions
2021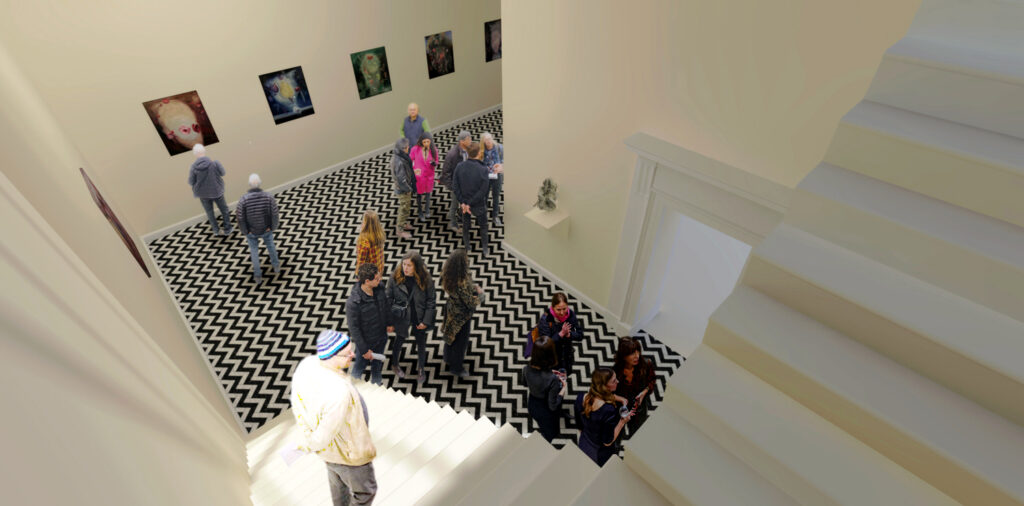 Curator and architect Filip Juul created a virtual ideal museum building for my artwork to be on display during the COVID-19 lockdown. During this time all art institutions were closed in Denmark, and I had three shows cancelled.


READ MORE >
AFTER IMAGES
Janus Bygningen (DK)
Group exhibtion
2021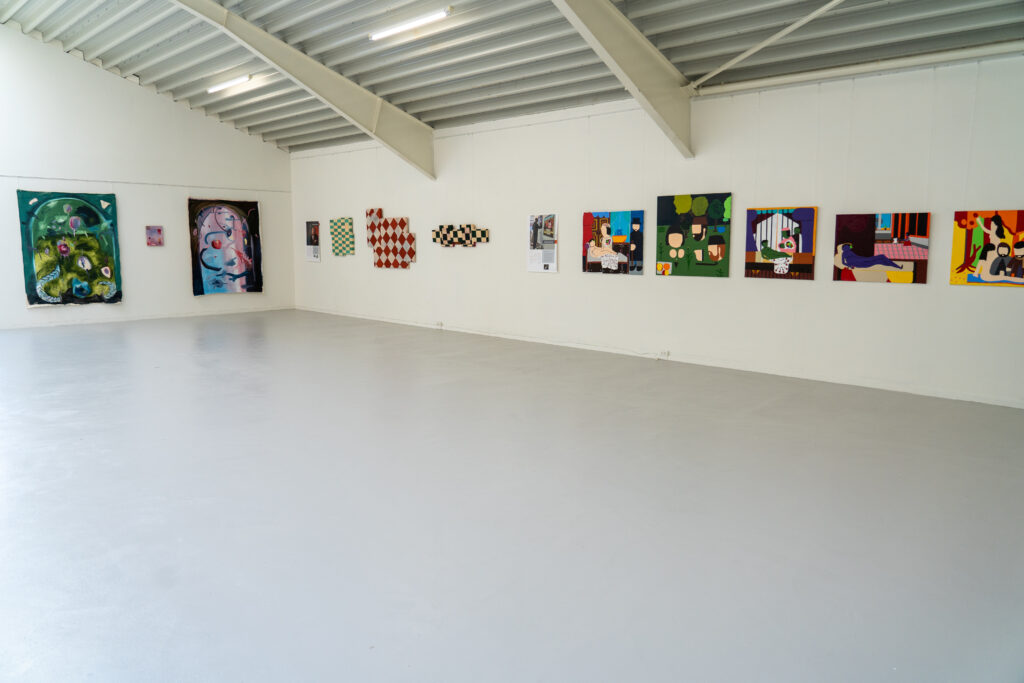 mages do not arise from nothing, there is always a history.
The exhibition is about the role models that artists have either motivically, technically, thematically, materially, mood-wise or in some other way. The exhibition focuses on the work's starting point and asks about something that might otherwise be difficult to talk about, namely artistic relationships.
NOW HOLGER DANSKE NEEDS TO WAKE UP
PERMANENT PUBLIC PAINTING
ELSINORE (DK)
2021

As part of Kunst og Byrum in Elsinore I was invited to create a wallpainting inside a tunnel. It is located just next to a big area of social housing. My intention was to bring the local directly into the wallpainting a long known places from the city.
It was kindly support by Elsinore Art Council and The Danish Art Council.
MELANCHOLY
GROUP EXHIBITION
MELANCHOLY
SKOVHUSET, DK
2021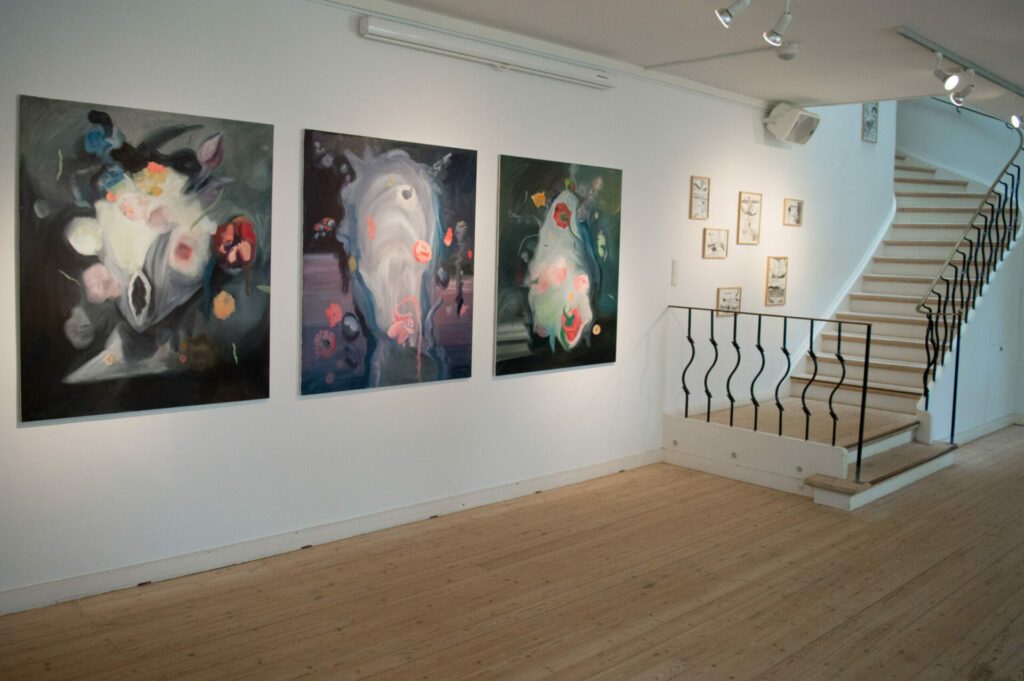 n Melancholy – An Accidental Event, ten visual artists have set out to investigate and portray melancholy in 2020. Has melancholy today become an unequivocally negative phenomenon, or does it still hold a significant impetus for creativity, as previously thought?
FLOATING SOULS
GROUP EXHIBITION
CORNER SOPHIENHOLM, DK
2020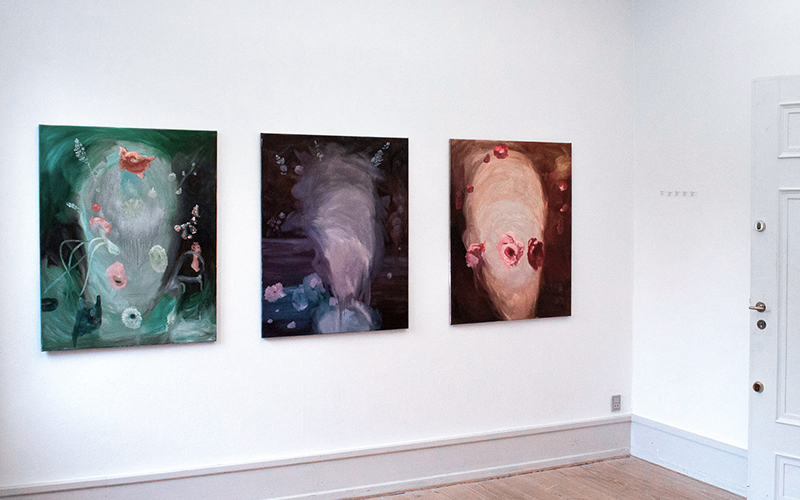 Floating Souls is a series of paintings where Drøschler depicts a less expressive visual language. She says about them:

"I wanted to explore the notion of meditation in my paintings. For years I have meditated on a daily basis. During my meditation sessions I see form and color floating with my eyes closed. I believe that these internal images are glimpses of an other dimension which I guess I have always been seeking throughout my life."
HAUNTED
Popup exhibition
An old airbase (DK)
2019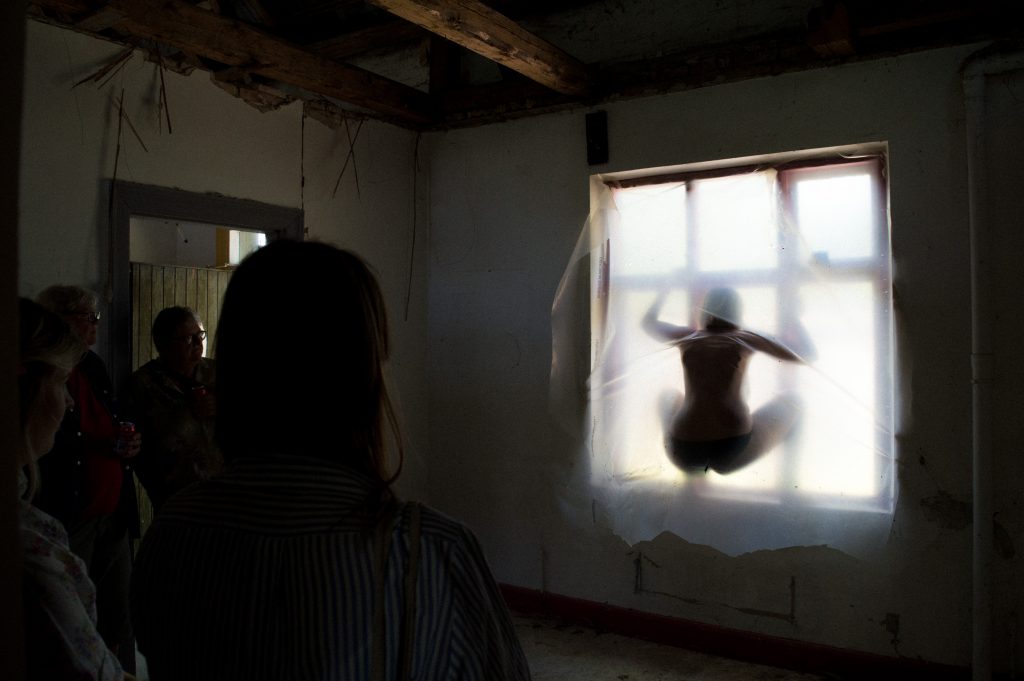 A room has a voice, and a house has a body. During a weekend a popup exhibition and performance takes place inside an abounded house located at the previous airbase Værløse in Denmark.
AM I MENTAL?
GROUP EXHIBITION
GALLERY BLVRD156 AT ANEBERG (DK)
2019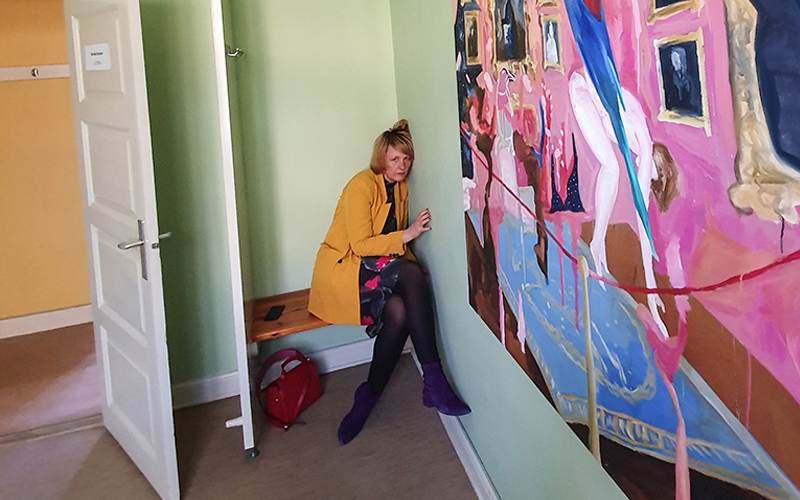 At the previous mentalinstitution Aneberg gallery Boulevard156 has curated a groupshow to show artworks in the original building. The invited artists are Anette Abrahamsson, Katrine Ærtebjerg, Kristian Devantier and Mia-Nelle Drøschler.
I AM TRYING NOT TO BE HERE
PUBLIC PERMANENT PAINTING COMMISSION
SKÆLSKØR (DK)
2019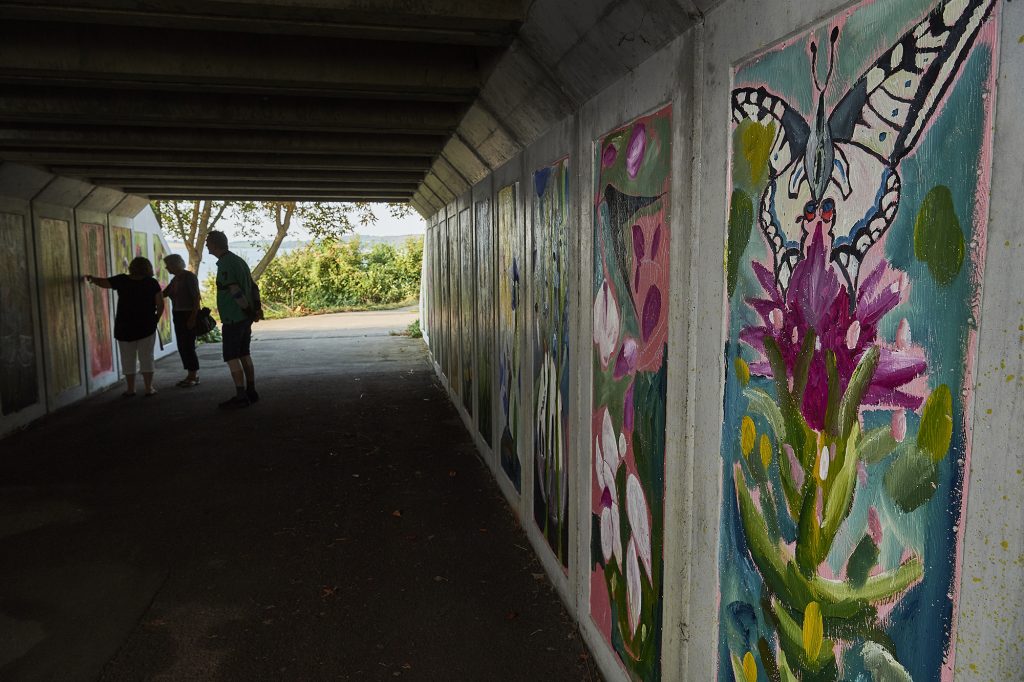 In a pedestrian tunnel at Noret in Skælskør, 56 paintings have been made as two friezes. Motifs are inspired by the nearby lake, where a rich animal and flower life is to be experienced. A walk around the lake is a favorite walk and many have to walk through this tunnel to start the walk.
IT IS ALL ABOUT ME
SOLO EXHIBITION
GALLERY ROZART (DK)
2018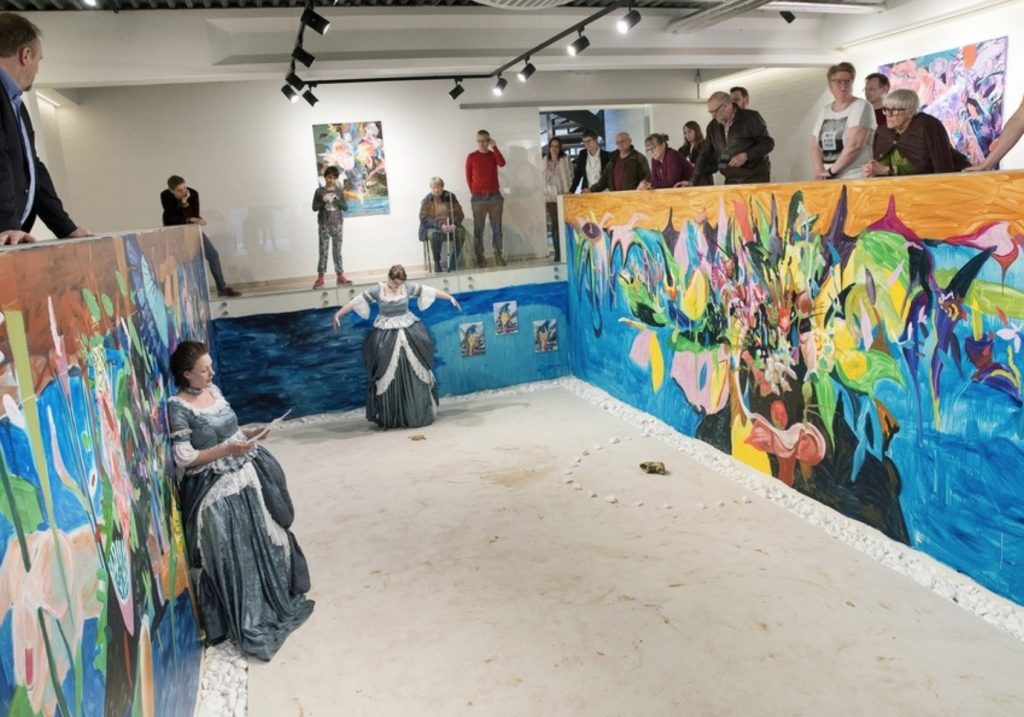 At Gallery Rozart in Denmark Drøschler created a sitespecific painting, covering alle the walls in an empty swimmingpool with a coloristic expressive flower sea. At the upper area of the gallery space a hanging of her paintings were installed. Drøschler carried out a performance, also including her imaginative twin sister, reading one of her poetic narrative text.
MY DREAMS
GROUP EXHIBITION
NORSKE HUSET, SOPHIENHOLM (DK)
2018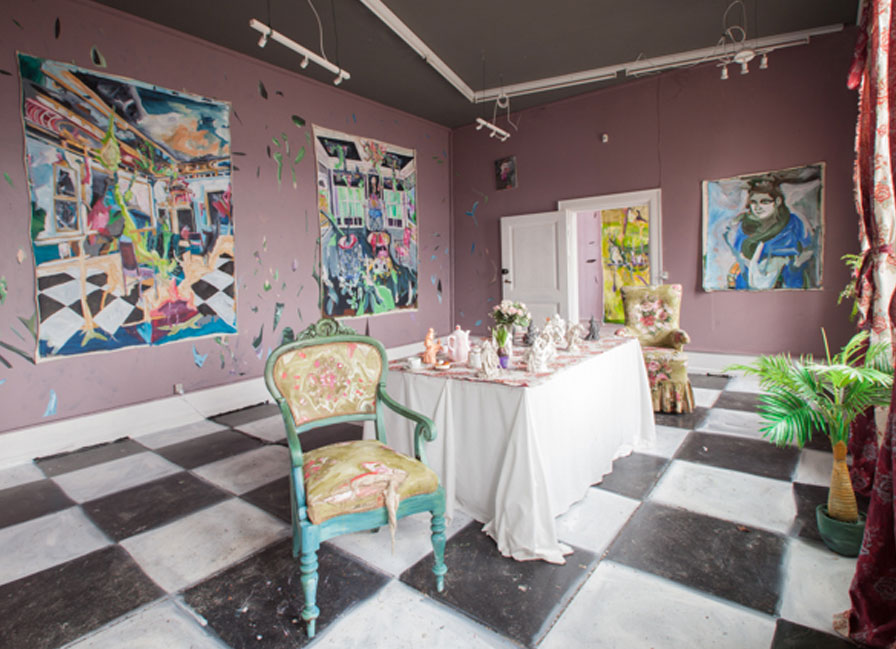 At the Danish museum SophiEnholm I created a sitespesific painting installation in three rooms. All surfaces were covered; floor, ceiling and walls. A teatable were set in the middle, plates, sculptures and cups were arranged, and a performative reading took place over the course of five days.
WE ARE HERE (JUST FOR A MOMENT)
GROUP EXHIBITION
NORSKE HUSET, SOPHIENHOLM (DK)
2017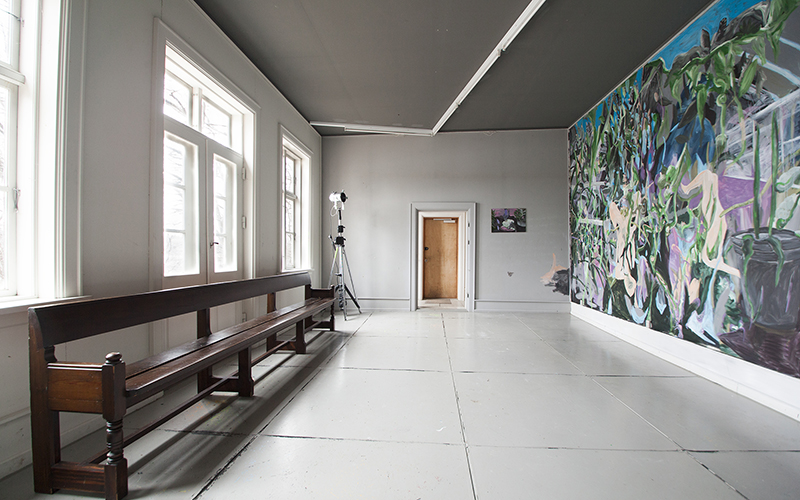 Visual artist Mia-Nelle Drøschlers questions this in the works for the exhibition We Are Here (Just For A Moment). A monumental wallpainting is carried out in one of the three rooms at Norske Huset in the Danish Museum Sophienholm. A churchbench is placed infront where the spectator can sit and look at the explosive color from the painting, while listening to the soundtracks from the two artfilms seen in the two adjoining rooms.
READ MORE >
A TRIBUET TO LIFE
GROUP EXHIBTION
SOPHIENHOLM (DK)
2012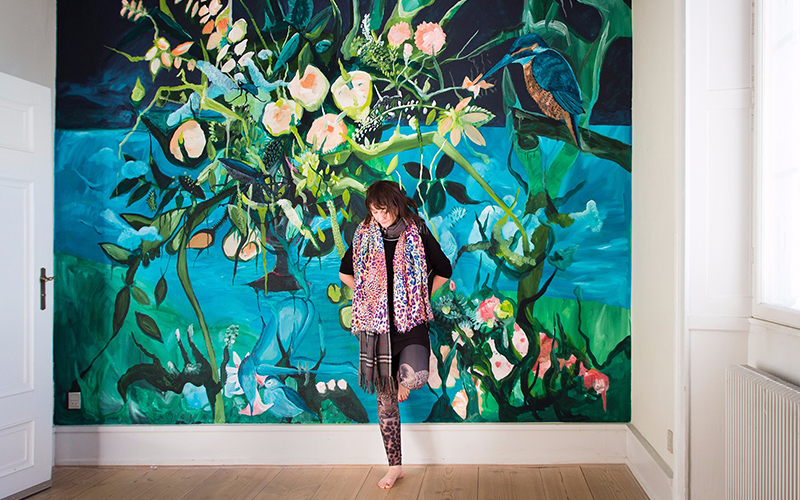 A wallpainting was carried directly in the wall.
A paradise and the devil is lurking over the shoulder on the opposite wall.
Part of group show Corner.
THE KINGFISHER
TEMPORARY PUBLIC PAINTING
VIBORG (DK)
2016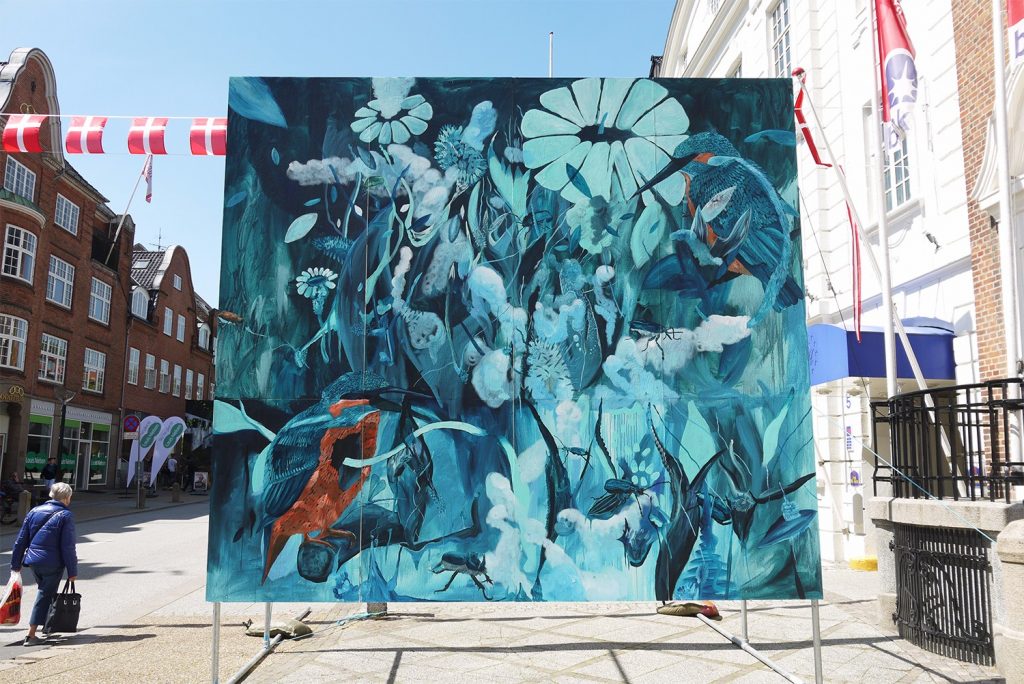 During a two week art festival ten international artists each created
a large scale painting in two weeks. Drøschler created an imaginative landscape in which a two kingfishers were depicted.
UNDER THE SURFACE THE SKY IS ALWAYS BLUE
TEMPORARY PUBLIC PAINTING
COPENHAGEN (DK)
2016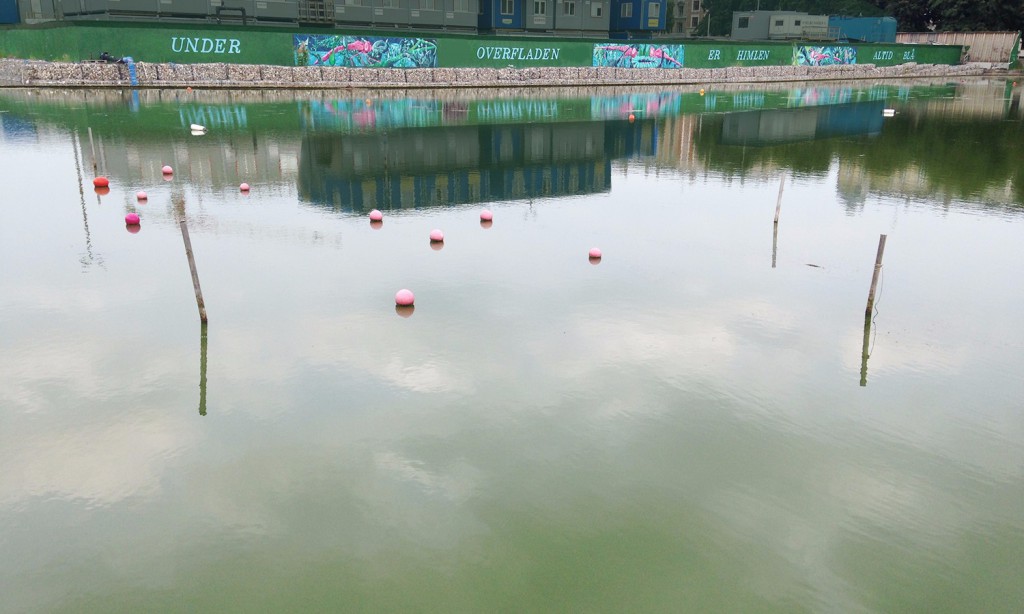 An 80 meter long painted is installed on the lake in Copenhagen. Three large scale dragonflies were painted by Drøschler with the poetic words 'Under the surface the sky is always blue'.
THE ISLAND OF MANY DREAMS
SOLO EXHIBTION
BIE & VADSTRUP GALLERY (DK)
2014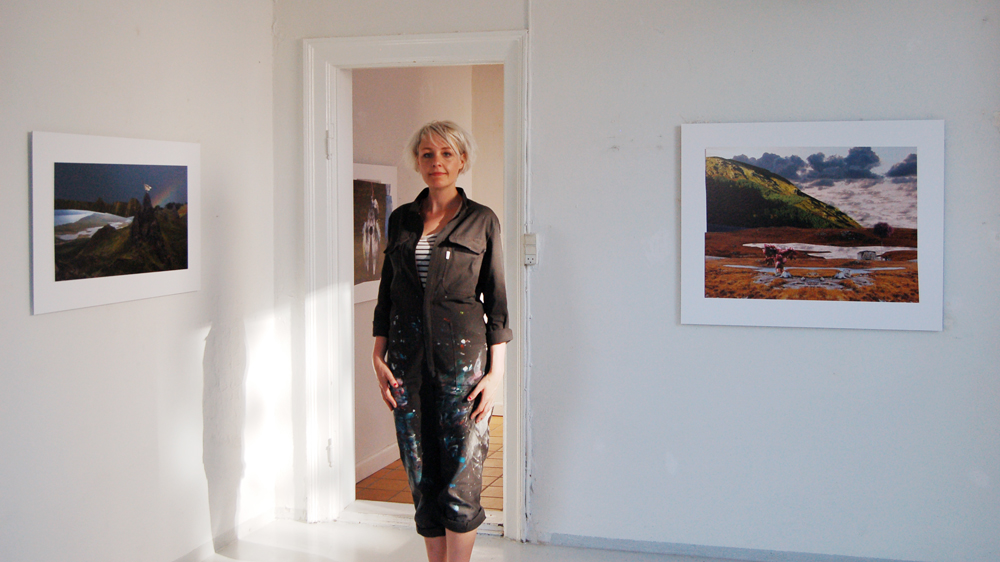 ARCH402 is delighted to present the first solo show in England by Danish artist Mia-Nelle Drøschler. She graduated from Goldsmiths in 2010. Soon after her degree show Drøschler travelled to the remote rainforest in Borneo, where she for days went trekking to experience the overwhelming chaos of the nature. It became a turning point in her paintings

READ MORE >
THE FOREST WITHIN
SOLO EXHIBTION
ARCH402 GALLERY (UK)
2012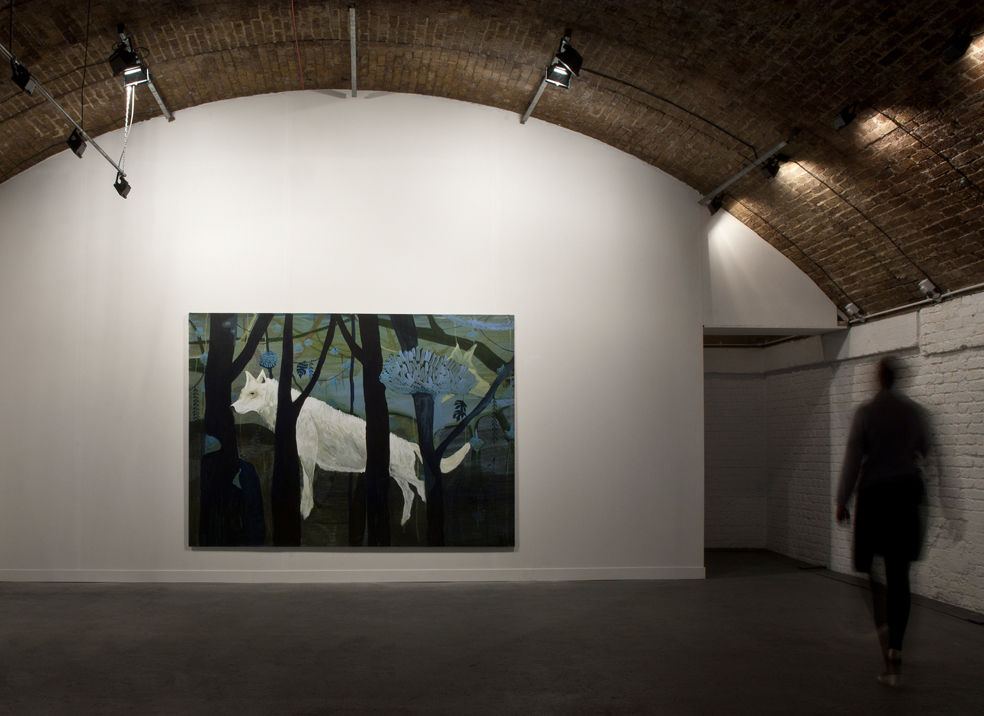 ARCH402 is delighted to present the first solo show in England by Danish artist Mia-Nelle Drøschler. She graduated from Goldsmiths in 2010. Soon after her degree show Drøschler travelled to the remote rainforest in Borneo, where she for days went trekking to experience the overwhelming chaos of the nature. It became a turning point in her paintings