WALL PAINTINGS
Inspired by her extensive research into site-specific painting in the ancient city of Rome spanning from 2015 to 2021, Mia-Nelle Drøschler has embarked on a remarkable artistic journey. This research has had a profound influence on her creative process, shaping her approach to art and its integration with the surrounding environment. The culmination of this period of exploration is evident in her extraordinary wall paintings, which have found homes in both public spaces and esteemed museums and galleries.
Drøschler's wall paintings are more than just artistic expressions; they are a harmonious blend of history, culture, and her own unique vision. Figurative elements drawn from the local area are seamlessly incorporated into her motifs, creating a dialogue between her work and the geographical context. These figurative elements serve as a bridge, connecting the past with the present, and the artist's interpretation with the tangible world around her. Through her art, she invites viewers to embark on a journey through time and space, where the boundaries between the physical and the metaphysical begin to blur.
One of the defining characteristics of Drøschler's wall paintings is the use of vibrant, expressive, and colorful painterly gestures. Her work exudes energy and vitality, capturing the essence of the moment in which it was created. It's as if the paint itself is a living entity, dancing across the surface in a frenetic and exhilarating rhythm. This dynamic approach infuses her work with a sense of urgency and immediacy, inviting the observer to connect with the art on a visceral and emotional level.
What sets Drøschler's artistic process apart is her incredible pace. She is known for working at a remarkable speed, her brushstrokes swift and decisive, capturing the spontaneity of the moment. This swiftness is a reflection of her connection with her surroundings, as though the spirit of Rome and its rich history propel her to create with unbridled enthusiasm.
In the world of art, Mia-Nelle Drøschler's wall paintings serve as a testament to her profound connection with the places she paints, the vibrant colors of her imagination, and the unrelenting passion that fuels her work. Her art is a living testament to the beauty of spontaneity and the transformative power of a highly expressive and dynamic approach.
PERMANENT PUBLIC PAINTING COMMISSION FOR ELSINORE COUNCIL 2020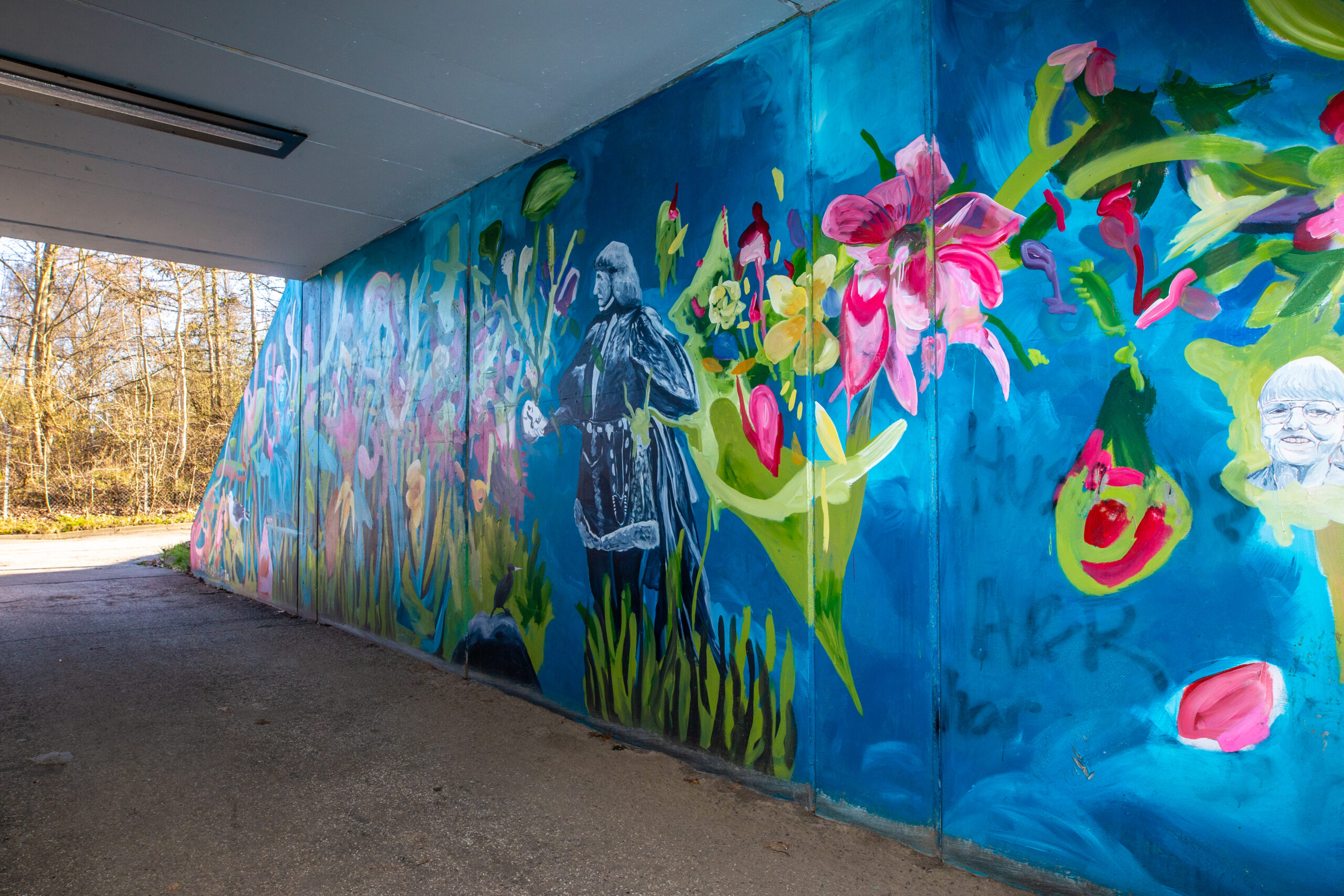 As part of Kunst og Byrum in Elsinore, Drøschler made a mural inside a tunnel. On the mural, Drøschler has painted the Danish legend Holger Danske, about whom it is written that he will wake up when the Danes need him…
PERMANENT DECORATION FOR SLAGELSE COUNCIL 2019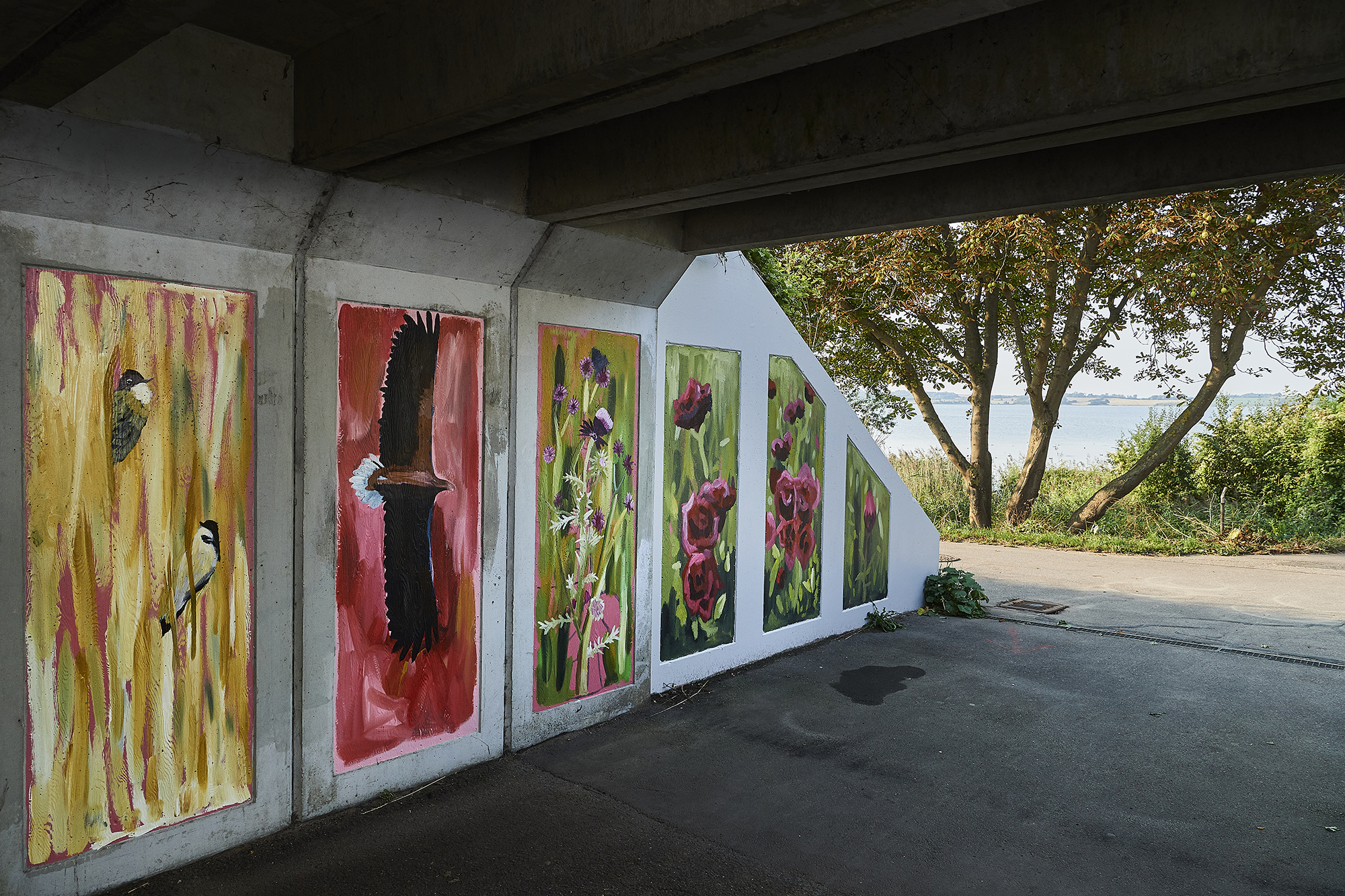 In a pedestrian tunnel at Noret in Skælskør, 56 paintings have been made as two friezes. Motifs are inspired by the nearby lake, where a rich animal and flower life is to be experienced. A walk around the lake is a favorite walk and many have to walk through this tunnel to start the walk.
SOLO EXHIBITION GALLERY ROZART 2018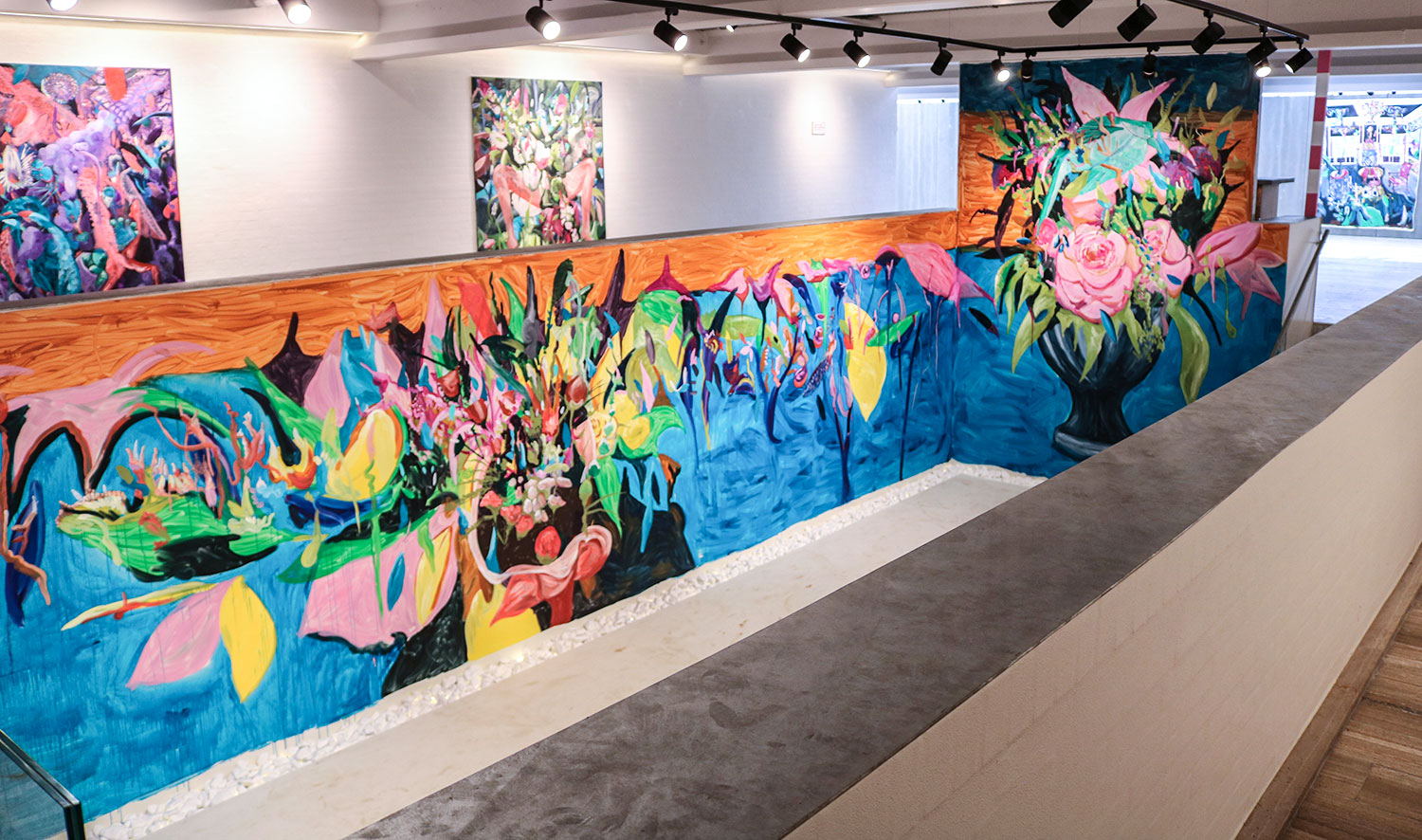 At Galleri Rozart in Denmark, Drøschler carried out a site-specific painting that covered all the walls of an empty swimming pool. It became a coloristically expressive sea of ​​flowers.

Drøschler also performed a performance that took place in the empty swimming pool, together with his imaginary twin sister.

READ MORE
EXHIBITION NORSKE HUSET 2018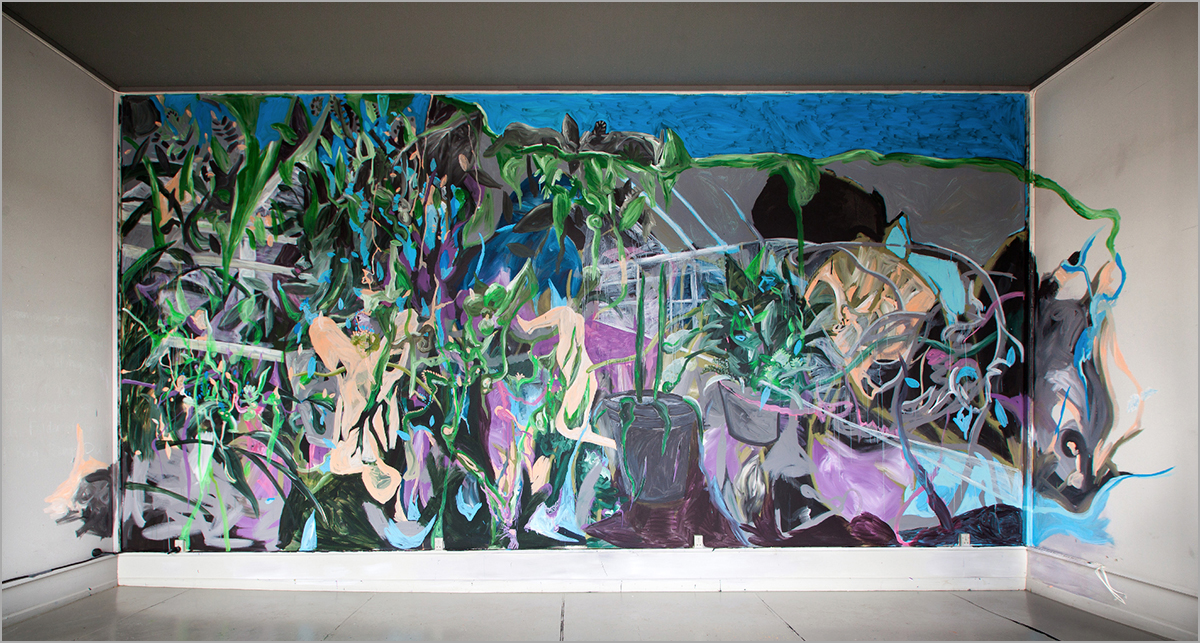 Drøschler questions the 'moment' in the works for the exhibition We Are Here (Just For A Moment). A monumental mural has been made in one of the three rooms at the Norwegian House in the Danish Museum Sophienholm. In front is a church pew where the spectator can sit and witness explosive and colorful color from the painting, while soundtracks from two art films can be listened to that can be seen in the two adjoining rooms.
Visit the page EXHIBITION VIEWS to see more sitespecific paintings.