In my practice, I explore: What is the contemporary potential of art to articulate the collective mythologies and affects that are so central to human experience?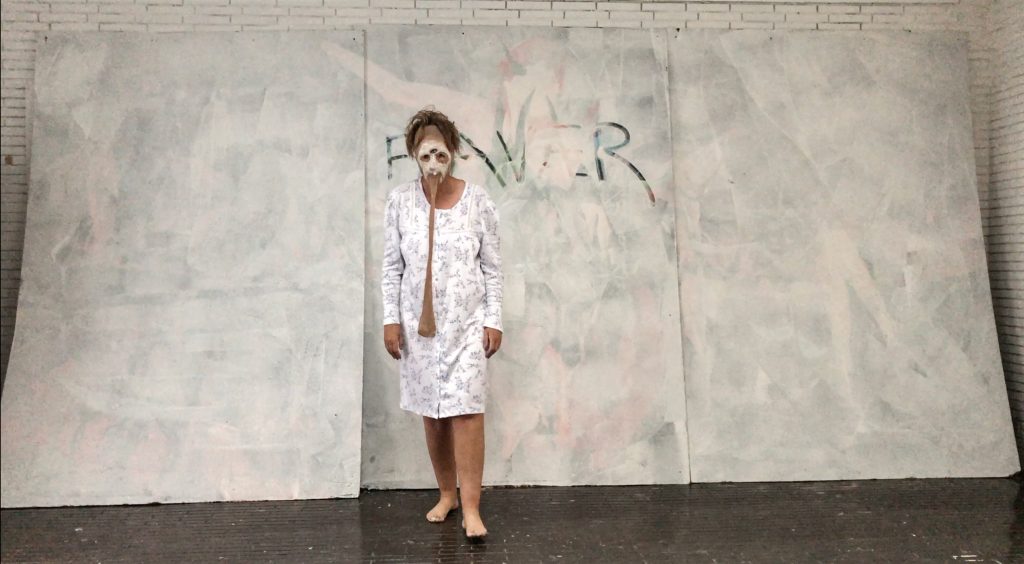 My multidisciplinary practice works across several visual fields such as painting, drawing, collage, performance, sculpture and poetry. Different experiences require different forms of expression, and my practice is therefore constantly evolving through different media. My practice is a dialogue with my forms of expression, their potentials and limitations. Myths, mythologies, and collective experiences are the fuel for my practice, and my constant focal point is how the visuality of art functions as a medium, a portal if you will, that enables an alternative cognition.
In my practice, I always want to address the collective space. In a time marked by individualization and insecurity, where we are constantly faced with new crises. This is where my practice comes in, and tries to articulate a profound human experience that is just filled with affect, doubt, care, dreams and cohesion. A practice that states, (instead of commenting on) that we experience through the human body and human collectives, affective and mythological systems.
---
CV 2021

Education
2010 Fine Art, Goldsmiths University of London

Selected solo exhibitions
2021 Næsten Kærlighed, UDSTILLINGSSTEDET Sorø, DK
2019 Hjemsøgt, Filmstationen Værløse, Maløv DK
2018 It Is All Bout Me, Gallery Rozart, Ikast DK
2017 A Selection Of Old Things, The Danish National Museum, DK
2015 Mia-Nelle, Bredgade Kunsthandel, Copenhagen DK
2014 The Island Of Many Dreams, Bie & Vadstrup Gallery, Copenhagen DK
2013 DreamEscapes, Danish Cultural Institute, Edinburgh UK
2011 The Forest Within, Gallery ARCH402, London UK

Selected group exhibitions
2021 Morosum, Dronninglund Kunstcenter, DK
2021 Efterbilleder, SAK, Svendborg DK
2021 Plein Air, Museum Salling, DK
2020 Sommerudstilling, Galleri Egelund, DK
2020 Melankoli, Skovhuset DK
2019 I do Art, Ergo I am, Marienlyst Slot, Elsinore DK
2019 Aneberg / Boulevard156 Gallery, Copenhagen
2018 The Essence Of Now/ Boulevard156 Gallery, Copenhagen DK
2018 Group exhibition / Kunstlerhaus Bethanien, DE
2017 Corner 2017 (guest artist) Sophienholm, Bagsvaerd DK
2017 Jeg Tænker Tit Pa Det / /Boulevard156 Gallery, Copenhagen DK
2016 D I M E N S I O N – KUNST TUR/RETUR KUNST, Rundetarn, Copenhagen DK
2013 Winter Exhibition, Bredgade Kunsthandel, Copenhagen DK
2010 Degreeshow, Goldsmiths, London UK
2007 Det er kunst, Gallery Nakke Hage, Copenhagen DK
2006 KE – Kunstnernes Efterarsudstilling, Den Fri Udstillingsbygning, Juried selection, DK

Public sitespecific paintings
2020 Det er pa tide Holger Danske vagner, Helsingør Kommune, DK
2019 Inside Out, Wallpainting, Skælskør Kommune, DK

Performances
2020 I Must Eat Myself Now, The Danish National Museum, DK
2019 Miss Lemon Moon, Marienlyst Castle, Elsinore DK
2018 Live paint during concert by Marcel Gaul, Præstebo Church, Copenhagen DK
2017 Madam Blue,BLVD 156 Gallery, DK
2016 Showcaseandreading, Koncertkirken, Copenhagen DK

Grants and residencies
2021Full residency, The Danish Institute, Rome, IT
2019 Full residency, The Danish Institute, Rome, IT
2018 og 2019 Montana Foundation, DK
2018 og 2019 Dronning Ingrids Romerske Fond, DK
2019 Grethe Schantz Fond, DK
2018 Danish Art Council for residency at Kunstlerhaus Bethanien, DE
2018 Montana Foundation, DK
2018 Residency, Kunstlerhaus Bethanien, DE
2018 Production grant, Montana Foundation, DK (Production grant)
2017 Danish Art Council Work Grant for My Dreams, Sophienholm, DK
2017 Full sponsorship, Dyrup, DK
2017 Full residency, The Danish Institute, Rome, IT
2017 Dronning Ingrids Romerske Fond, DK
2016 KnudHøjgaardArtFund,DK
2016 DanishArtCouncilGrantwardedforWeAreHere(Justforamoment),Sophienholm,DK
2016 Full residency, The Danish Institute, Rome, IT
2016 Dronning Ingrids Romerske Fond, DK
2016 Full recidency, The Danish Institute, Athens GR
2015 Production grant, Montana Foundation, DK
2015 Full residency, Klitgaarden, Skagen, DK
2012 Danish Art Council for new web site, DK
2011 British Art Council Grant warded for The Forest Within, Gallery ARCH402, UK.
2011 Full residency Klitgaarden, Skagen, DK
2010 Danish Art Council Grant warded for The Forest Within, Gallery ARCH402, DK

Mia-Nelle Drøschler is a member of BKF (Danish Professional Artists Association)
CONTACT
I live and work at a farm in Jungshoved in Denmark. I am seeking to live self-sufficient from my own garden. You are very welcome to visit my studio in between exhibitions, please send me an email to arrange a time:
contactmianelle at gmail dot com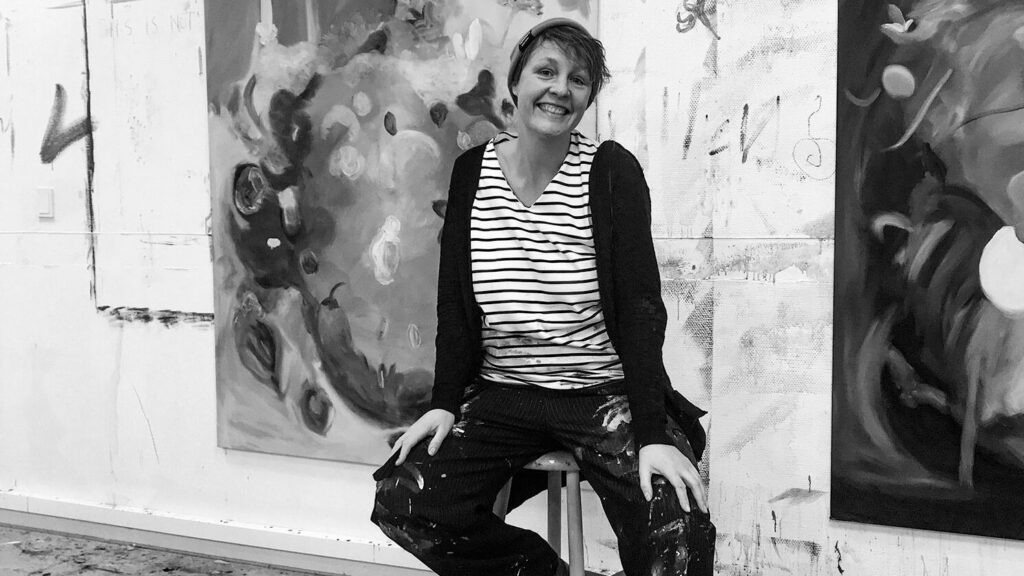 "I CAN ACTUALLY PAINT AND BE SOCIAL AT THE SAME TIME"
Written by Morten Friis
Cand. Mag. in Modern Culture and Cultural Information


It is in the process that the artist Mia-Nelle Drøschler is at her best. But it is to enjoy the happiness too
soon, as in it this tale, we will need to start all the way back to a far more less than 'the good old days'.
We are writing June 17, 2010, and it is not any normal day. It is the day of the highlight of the art calendar
of the International art world: the degree show of the acclaimed London-based art school Goldsmith's.
It is two o'clock and the doors have just opened. In walk critics, collectors, jetsetters, actors, in short,
everything that can walk and stand in the finer circles of the upper layers of the metropolis, and among
the artstudents is being whispered again and again: 'Will Saatchi come, will Saatchi come?'

READ MORE
DON'T BE A STRANGER
Follow me on Instagram: #mianelle