At Jenle I discovered spots of light under a tree on a lawn.
Green straws were stepped on by people who had their walk here. The Danish author Jeppe Aakjær and his wife Nanna lived here for many years. Jenle was also a gathering place for prominent people in culture and politics, where both the poor and the women were remembered and talked about. No one was forgotten.
But I only found a booklet about Nanna on 30 pages. Everything else on Jenle was about Jeppe Aakjær. He is worth remembering, the celebrity of the time, and has since written himself into history, literally, all the while Nanna performed carpentry work and decorated gables, chests and furniture. Were it not for the information about Jeppe, it could seem that only Nanna had lived here.
I was at Jenle to paint landscape. For nine days I lived and worked with six other painters, four from Germany and three from Denmark. I only knew one in advance. But I knew that they were all visible artists on the contemporary art scene in both Berlin and Copenhagen. Now they painted sheeps and hives. I understood nothing. 'Yes, thank you', I had said to the invitation, without getting my head around the concept 'Plein Air'. It was not till I was standing on the lawn that it dawned on me that we were going to paint landscapes and make conversations.
The other artist were skilled painters, it was clear. No one thought of Nanna, I could only think of Nanna. First I tried to do as the others, and painted the view of the fjord. It was probably beautiful, and goddamn boring. Why paint nature, so that it resembles nature? The mosquitoes were just as stinging as the brushstrokes I painted in the first three days. Fjord, field, cow, it was very itchy.
Never have I painted in the open air before. With me I had brought seven kilos of oil paint, no easel, and a dress. The other artists had done this many times before, Plein Air is apparently a big thing in both Germany and England. They had transportable easels, small tubes of paint, and a fixed gaze on the landscape, which they captured in a few moments.
I painted myself down in the lawn, yellow, green, canvas, then I disappeared into the woods and drew feathers fallen from the open air.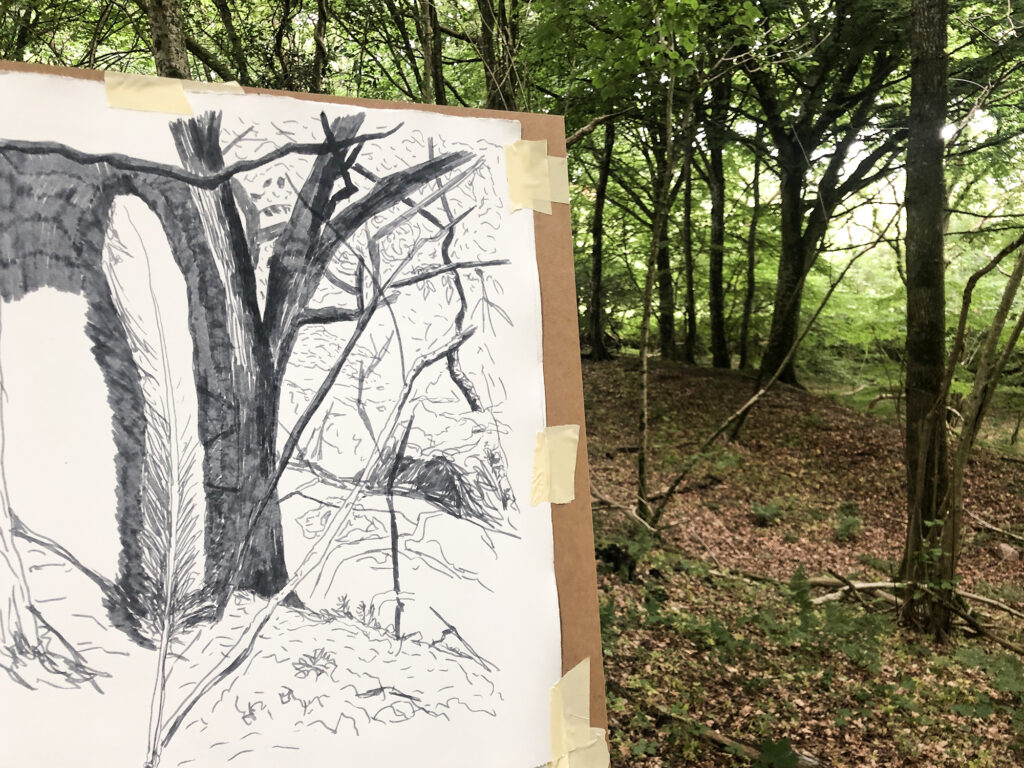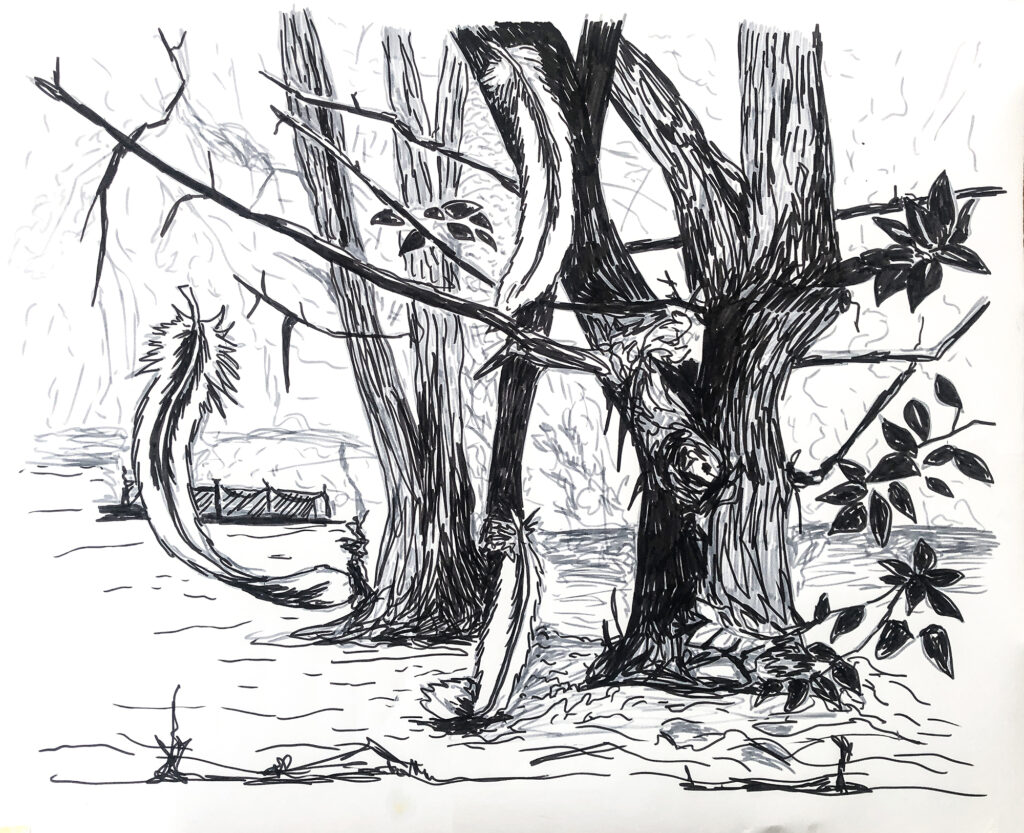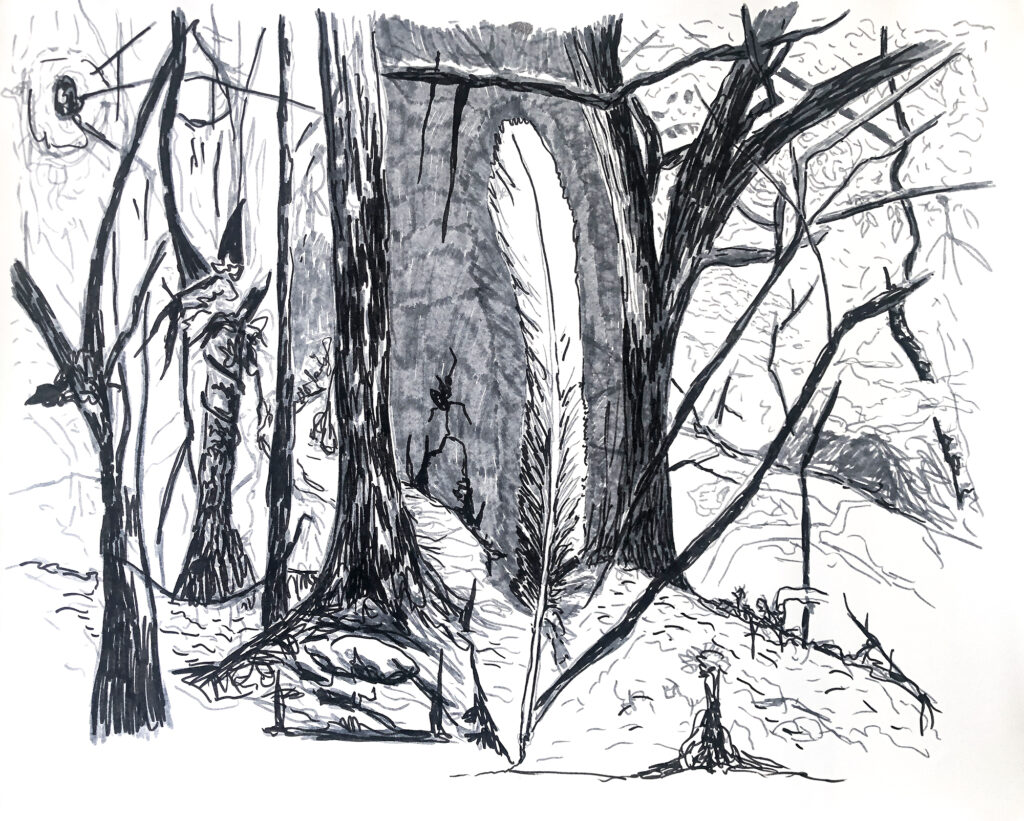 I remember Nanna, and have promised her to return to tell and show her story.
Now all our works are exhibited at Spøttrup Borg.
They can be seen until July 21.
I am exhausted and awake.
Never have I experienced anything like this.
It was violent, and just as it should be.
Thanks to Salling Museum, curator Mette Dyhrberg and Henrik Scheel Andersen for tearing me apart, I have changed my gaze.
I will bring my new gaze to Jungshoved in Denmark.
Next week I will move there, and will be living on a four-lane farm. Two of the lengths will be my new studio, I will paint in the open air, and keep a sharp eye on the sea eagle who last month snatched a hen from my upcoming chicken farm.
Participating artists:
Sibylle Bross (D), Corinna Weiner (D), Sigurd Wendland (D), Mia-Nelle Drøschler (DK), Finn Have (DK) og Claus Hangaard (DK) Henrik Scheel Andersen (DK).
Exhibition
June 24 – July 21
Opening hours 10am – 6 pm
Ticket: 80dkr, free entrance for children
Location: Spøttrup Borg, Borgen 6A, 7860 Spøttrup