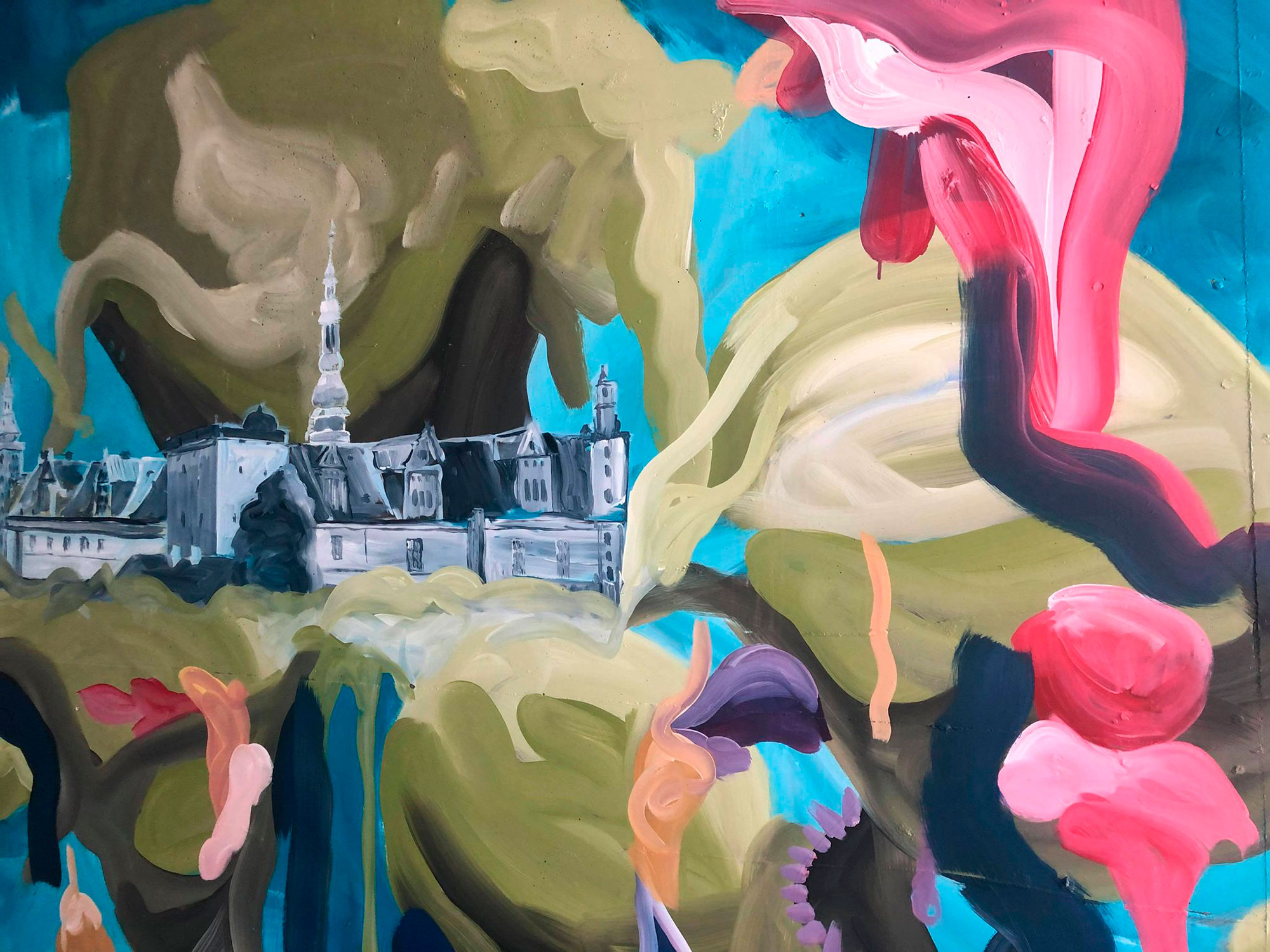 Two artists paint themselves into the heart of the city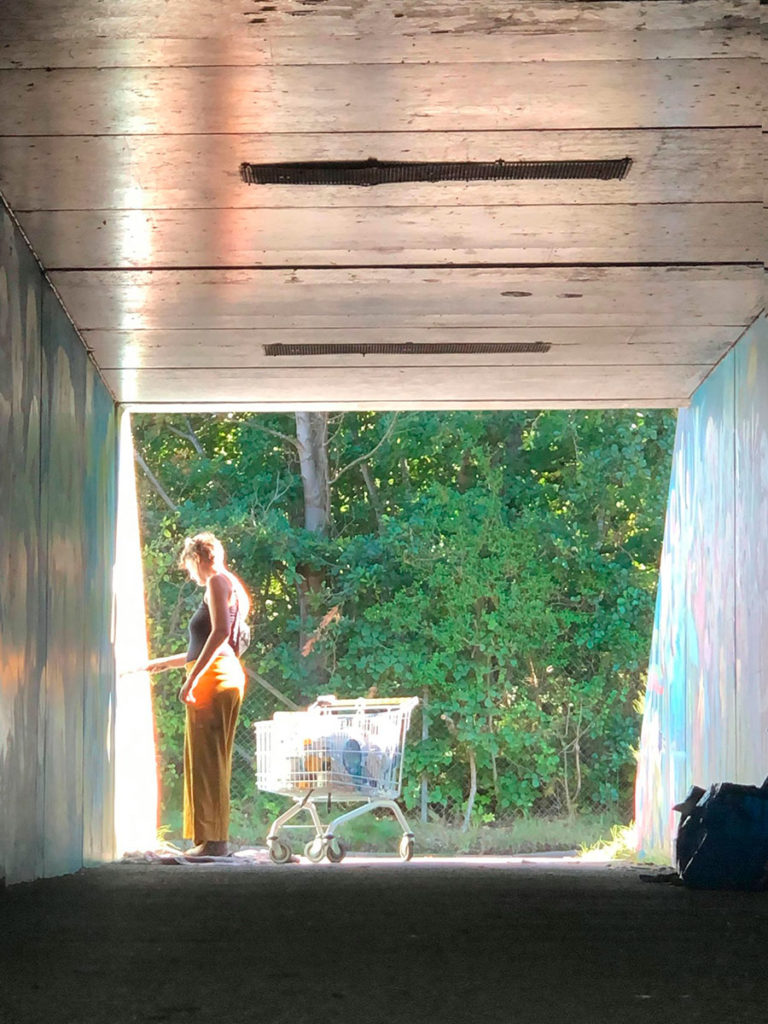 Press release and invitation
Passers-by are portrayed, Elsinore's stories are visualized and a beautiful explosion of colors and plant growth spreads on the city's two new tunnels.
To paint where people live
Many curious people stop and some actually pass by every day to see how the works change and greet the artists who are currently under Borgmester P Christensen's Road and Kongevejen, respectively.

Vapnagaard as an open gallery.
"I can feel that I am painting into a tradition of tunnel paintings and street art here in Vapnagaard. It is quite interesting that passers-by would like to talk about different expressions of paintings such as graffiti and expressionism, "says Mia-Nelle Drøschler.
Mia-Nelle's painting expresses both the abstract and the figurative. A seagull welcomes passers-by and three well-known figures, Holger Danske, Erik of Pomerania and Hamlet are portrayed, all the while strong and poetic brushstrokes show an expressive rendition of nature, the forest and the sea in Elsinore. Today's man is brought in on the opposite side of the tunnel, where Mia-Nelle lets 8 residents from Vapnagaard figure.
"Vapnagaard and the rest of Elsinore's stories belong together," says Mia-Nelle. Vapnagaard is my place. I grew up here. It's like coming home, "says the artist, who now lives in Copenhagen.
Art brings people together and brings joy
When the dark tunnels are transformed into art, it adds to the areas far more than paint. Christian Holm Donatzky, chairman of the City, Planning and Environment Committee says:
"In relation to urban development, art does something very special for the tunnels. It helps to create security and ownership of the area. By transforming the old, worn and dark tunnels into experience spaces, where we visualize the city's many new and old stories, the works contribute to citizens and visitors stopping and becoming curious about the many stories that each tunnel painting hides. I think it will be to the delight of many residents across generations ".
Shoulder by shoulder
In the tunnel under Kongevejen, street artist Andreas Welin paints children and adults living in Nøjsomheden and Vapnagaard. The portraits are side by side in large formats and show the diversity of the area.
"It's easiest to be allowed to paint the children," says Andreas. "It takes more to persuade the adults to be a model," he says.
The portraits are carried out in shades of green and blue.
"A portrait must of course look like the person I am portraying, and it can seem very strong, especially if the colors are also realistic. That is why I have chosen the alternative colors ", Andreas explains.

Andreas has also experienced that the passers-by are already embracing the works. "It's funny to see the curiosity and joy of passers-by when they recognize the portrayed because they live close to each other," he says.

Aesthetics and communities across
"It is fantastic that people come by and want to join," says Elisabetta Saui from Kunst og Byrum Helsingør, who has invited the two artists. "Here, art becomes infrastructure and a part of people's daily lives. This is art that creates a sense of belonging, pride and a community across differences, "says Elisabetta.
"NowKunst og Byrum has for a number of years worked to create a large number of tunnel paintings and we can feel that it means a lot to the residents in the area", says Michael Mathiesen, chairman of the Culture and Tourism Committee in Elsinore Municipality.
He continues: "That is why we are also looking forward to expanding with two new tunnel paintings. The paintings help to create new relationships and communities between the residents, especially also when their stories and identities become part of the work. And when the works are now created by skilled and renowned artists, we are dealing with tunnels of a high aesthetic quality, which I know help to light up the area and create joy for everyone ".
Art and dialogue
Both in Vapnagaard and Nøjsomheden live people with a sea of ​​cultural backgrounds. The visual works help to start a communication, even when one does not share language.
Every day a woman comes by Andreas Welin to say thank you. In fact, she does not know many more Danish words, but still she comes down the tunnel happy and smiling and thanks the artist for portraying her sister.

For Mia-Nelle, dialogue is essential both during the artistic process and in the further life of the work. In fact, 'art where people lives' is a project she dreamed of creating, already when she was admitted to Goldsmiths, an art academy in London. Because when you as an artist exhibit art where people live it becomes a part of their lives and a reference that everyone shares and in some way relates to. It invites dialogue.

Official opening of the works
Kunst og Byrum Helsingør invites to the official opening of the works on Wednesday 9 September 2020.

Everyone is welcome.

17:00 Tunnel Kongevejen ved Nøjsomhed
Welcome speech by Christian Holm Donatzky, chairman of the City, Planning and Environment Committee in Elsinore Municipality.
Speech by Andreas Welin and a resident of Nøjsomhed; with introduction by Elisabetta Saiu, Art and Urban Space Elsinore
The floor is given to Dorthe Qwist Greve and Kristian Sinding, Boligården Nøjsomhed and Marko Bilic, Tetriz Club
Walk to Tunnel by Vapnagård
Welcome speech by Michael Matthiesen; with introduction by Anje Holmstad, joint chairman of Vapnagaard
Speech by Mia-Nelle; with introduction by Anje Holmstad
Drinks and closing by Elisabetta Saiu, Kunst og Byrum Helsingør.

Kunst og Byrum Helsingør and this year's two tunnel paintings are financially supported by Helsingør Municipality and the Ministry of Culture.