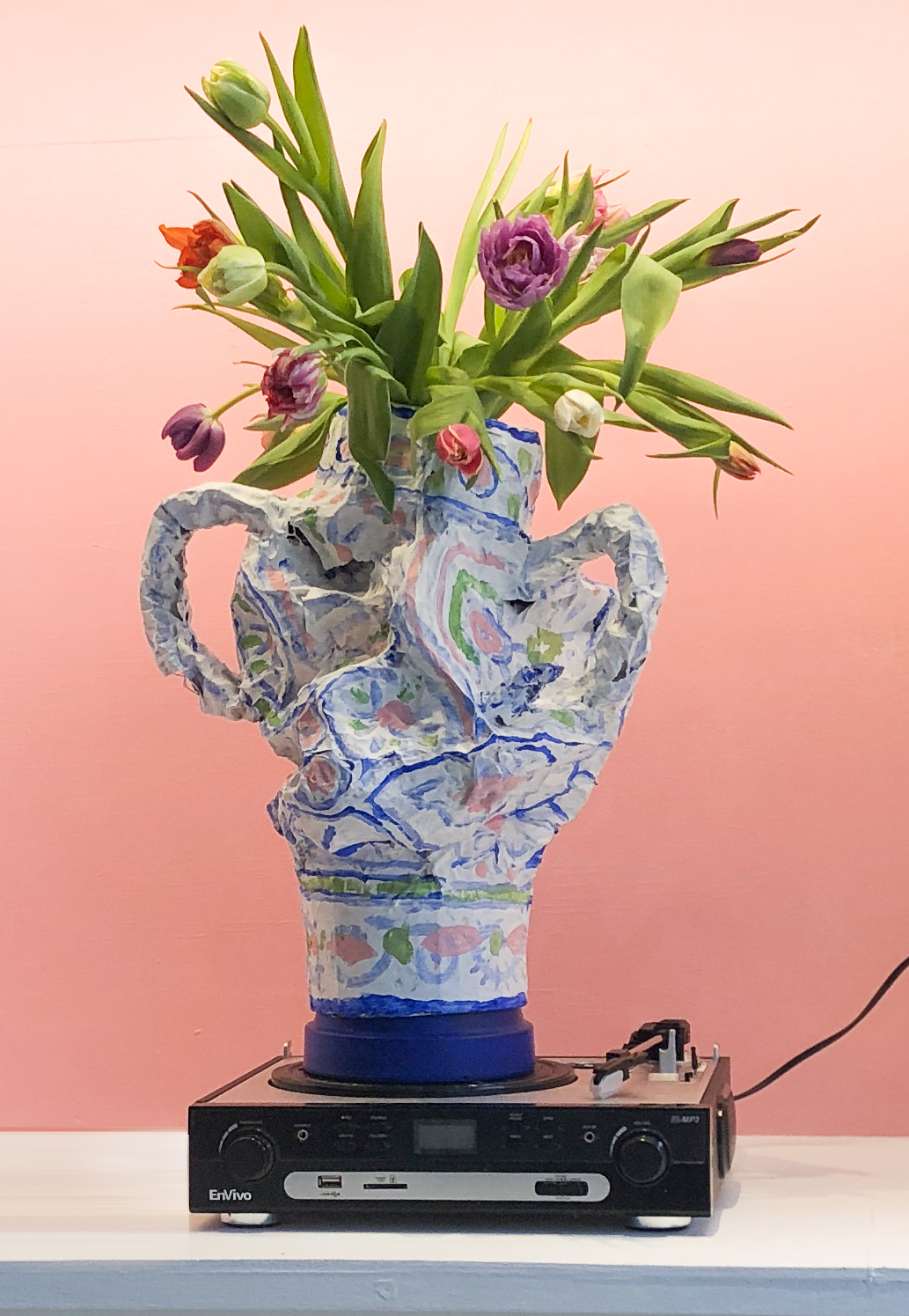 NOW ON DISPLAYS
NOW ON DISPLAY

Næsten Kærlighed / Almost Love
UDSTILLINGSSTEDET in Sorø, DK
March 25 – May 25, 2021

PRESS RELEASE
Mia-Nelle Drøschler shows the exhibition "Almost Love" at
UDSTILLINGSSTEDET.dk
Rådhusvej 4
4180 Sorø
until 25.5.2021

The exhibition is in BOXEN, which can be seen from the street, and in X-Rummet, which can be visited by prior arrangement on telephone 0045 2323281
Mia-Nelle Drøschler says:
A bouquet of flowers arranged in a sculptural vase placed on a recordplayer. That is the starting point for my installation in the BOX. The bouquet rotates around its own axis in a slow decay. The sides of the BOX are also painted, and I have installed graphic printing in the small room.
This picturesque installation is a typical gesture in my work, where I take the starting point in a specific context and in the exhibition space. Because of this gesture, it is ideal precisely by exhibiting in a format like BOXEN, where the viewer can only exhibit through the window. Thereby the work becomes a comment on Covid-19. Many people are sitting at home waiting, we can only meet at a distance, and all art and cultural institutions are closed.

In the X-Space, the story of Covid-19 continues. I have portrayed myself in three large drawings. On the square surface of the paper, I both float and collapse, as well as drinking water from Narcissus' lake. A series of drypoint prints performed during my residency at the Danish Institute in Rome (2019) is also autobiographical. In them I have portrayed myself in art and religious institutions posing in awkward yoga poses.
Mia-Nelle Drøschler is a graduate of Goldsmiths Fine Art in London (2010) and is a member of BKF.
The installation, Almost Love.
Photo Mia-Nelle Drøsler
2021