For the opening of the public painting in Elsinore in Denmark I made a speech. On many requests I share it in writing here. Thank you all for coming. It was quite overwhelming to see so many of you.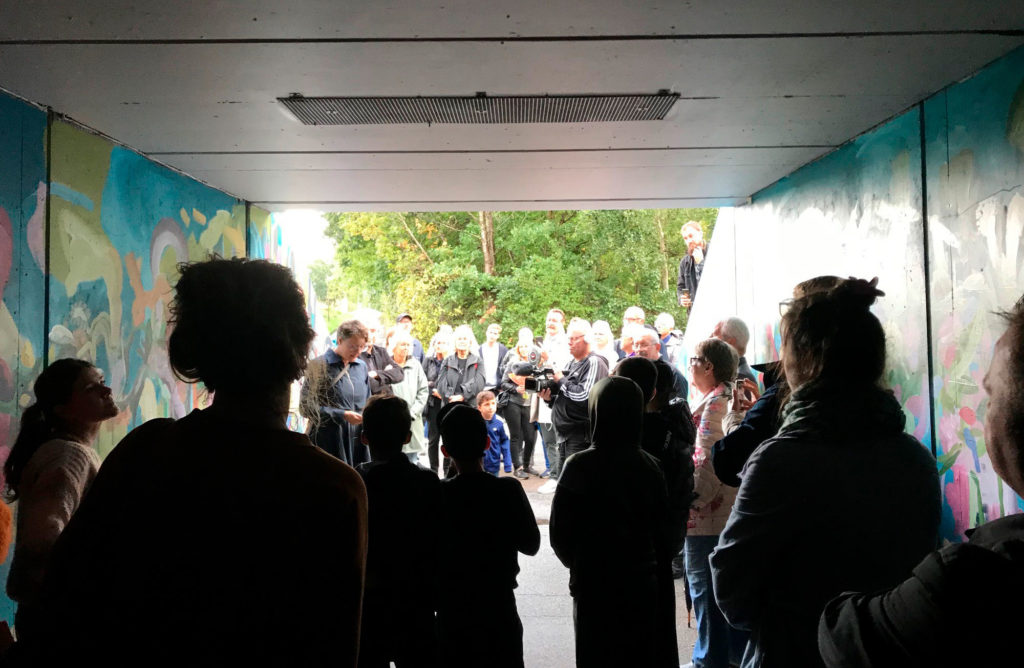 Speech / September 2020 / Opening at public painting

We do all come from a place
Holger Danske is original from France. He is not of Danish origin as the first times he is experienced are through French poems. But here in the city, Elsinore, not many people perceive him as not only being Danish, but being from Elsinore, as he for many years has been sleeping like a sculpture in the barracks of the castle Kronborg. Perhaps these coincidental coincidences are some of the earliest currents on integration where nationalities and cultures cross national borders. Understandable, since the earth is not really divided into red lines. If you look at the planet earth from the universe, it is merely blue and green.

We are all one, and we do all come from one place. I do not only come from Elsinore, I come from Vapnagård.

The other day I found a man in the flowerbed here by the tunnel, for many fates have passed through this darkness in preparation. His legs did not reach the tunnel when they let him down and I hurried to him when I saw his legs sticking out of the grass. After some shaking, I stared directly into Ronni's eyes, I thought, we do all come from a place, why is it him who is toppled in the mists of alcohol and I who stand in the elite in between gestures of blue and green?

My story is your story is Holger Danske's story.
Now he is awaken. Ronni got to his feet and Holger Danske has opened his eyes. It is about time. The colors of the earth swirl in and out of each other, a kind of storm, here there are no red lines, here are eruptions of abstractions and figurations. In the abstract hides the language of emotions, the unconscious, an origin together with representations of sculptors and places in Elsinore, it is recognizable in interaction with the unconscious, gravity is abolished, a new world is taking shape, Holger Danske will soon rise in his full height, homo sapiens is trying to rise in its collapse, I believe it takes more than my hand in Ronni's.

Thanks to Elizabetta and Art and Urban Space for inviting me to perform this work and for believing in my vision on a piece of cardboard, thanks to Elsinore Municipality and the Danish Ministry of Culture for making the real difference, and a big thank you to my two unique assistants Caroline and Nathalie with whom I could not have done this without. A big thank you to all the locals, both the two-legged and four-legged, and at last a very big thank you to my great love Svenn for once again allowing me to hide in a tunnel. It is not an oncoming train, it is light at the end of the tunnel and now I am coming home
Thank you.