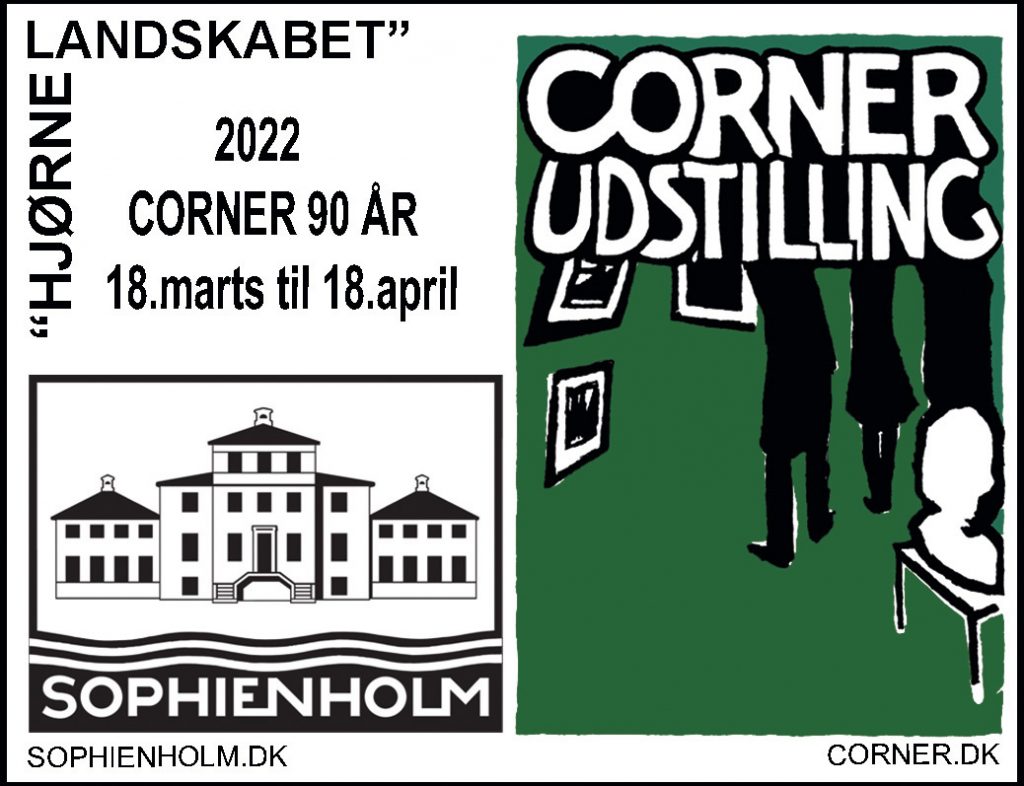 Welcome to the Danish Artists' Association CORNER

PRIVATE VIEW FRIDAY 18 MARCH 2022 2 PM TO 6 PM

WHERE
Sophienholm, Nybrovej 401, 2800 Kgs. Lyngby
The exhibition is open until 18 April 2022.
Open Tuesday to Friday at 11-20
Saturday and Sunday at 11 to 17


IT WILL BE CORNERS '90TH ANNIVERSARY EXHIBITION

The 90 years exhibition will be a traveling exhibition, which will extend over the next 3 months. From March 18 to mid-June.
The exhibition opens at Sophienholm on 18 March 2022 until 18 April 2022
From 29 April, the same exhibition will open at Det Ny Kastet and Morsø Art Association. The exhibition in Jutland will be divided into two places. But proceeds at the same time

The exhibition 2022 has been possible with the support from foundations to which we owe a great deal of thanks. The contributors can be found in the Corner catalog. Thanks to Corners Friends, who year after year support Corner.
Exhibitors 2022: Martin Askholm, Maria Bianca Barmen, Elisabeth Bergsøe, Jens Bohr, Linda Bjørnskov, Per Baagøe, Uffe Christoffersen, Mia Nelle Drøschler, Maja Lisa Engelhardt, Daniel Enkaoua, Alba Enström, Mogens Gissel, Claus Handgaard, Bente Hansen, Merete Hansen , Ole Prip Hansen, Finn Heiberg, Lars Heiberg, Tove Hummel, Elisa Jensen, Jens-Peter Kellermann, Pontus Kjerrman, Kirsten Klein, Leif Madsen, Anne Marie Mejlholm, Ulrik Møller, Anita Viola Nielsen, Egon Bjerg Nielsen, Hanne Sejrbo Nielsen, Mogens Nørgaard, Knud Odde, Lene Rasmussen, Lars Ravn,, Tong Wang, Claus Ørntoft.
WE LOOK FORWARD TO SEEING YOU ALL AGAIN.