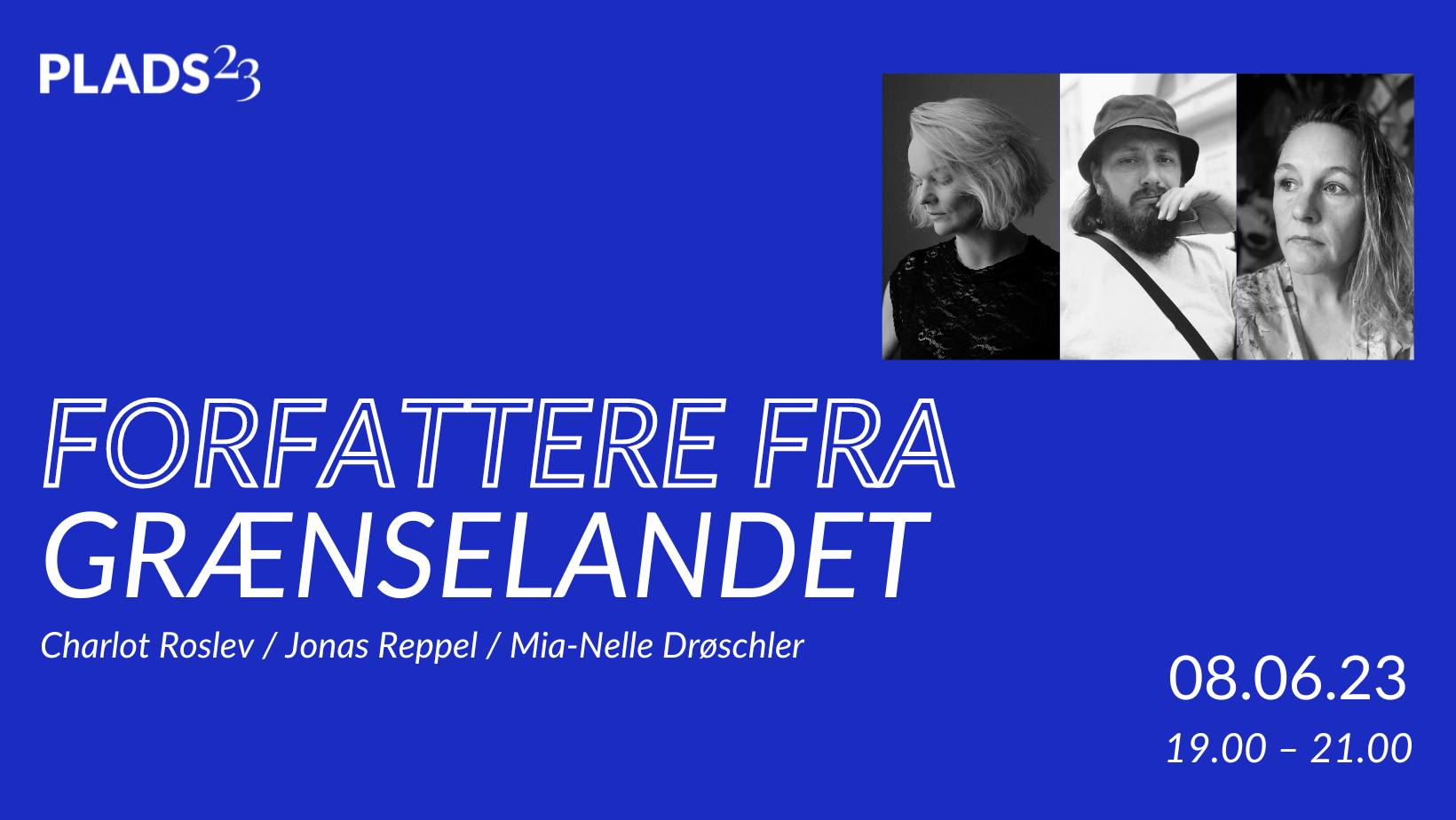 Forfattere fra grænselandet
PRESS RELEASE

You are invited to a poetic evening in the company of the three authors Jonas Reppel, Mia-Nelle Drøschler and Charlot Roslev.
Roslev, Reppe and Drøschler all explore the idea of ​​the borderland in their literary works in different ways. Be it in the form of the search for personal boundaries, the portrayal of class differences or the examination of the poem as a medium.
The evening offers readings from the authors' poetry collections and subsequent dialogue with the audience, as well as the opportunity to buy the authors' signed poetry collections.
The event is free and starts at 19.00.
ABOUT THE AUTHORS
Charlot Roslev (b. 1983) debuted in 2011 with the short story collection Fragmenter. Since then, it has become the poetry collections Free me from the province, Rift and I have you. Charlotte's poetry debut has been translated into Swedish, and she has appeared in various magazines in Denmark and Sweden.
Charlotte's writing centers on anxiety, abuse, motherhood and loss of love and self. Charlot is interested in the contrasts and connects the tragic and the comic in a delicate and strong poetic language.
Mia-Nelle Drøschler (b. 1978) debuted last year with her poetry collection love love love! at Forlaget Silkefyret. love love love! is a hybrid work that mixes poems and illustrations written and drawn by Mia-Nelle. After 23 years in European cities, she moved to the countryside two years ago to a disused country house with a dream to write and continue making art. Mia-Nelle is a trained visual artist from Goldsmiths.
Jonas Reppel (b. 1986) has attended Nordvest writing circle and Dramatic laboratory. Jonas has published the critically acclaimed poetry collection Farfedt on the Antipyrine publishing house. There was, among other things, a contribution to the wave of lower-class literature. In addition to this, Jonas has won the audience award for dramatic debut and contributed poems to a multitude of magazines.
The event is supported by Valby Local Committee.