ABOUT ME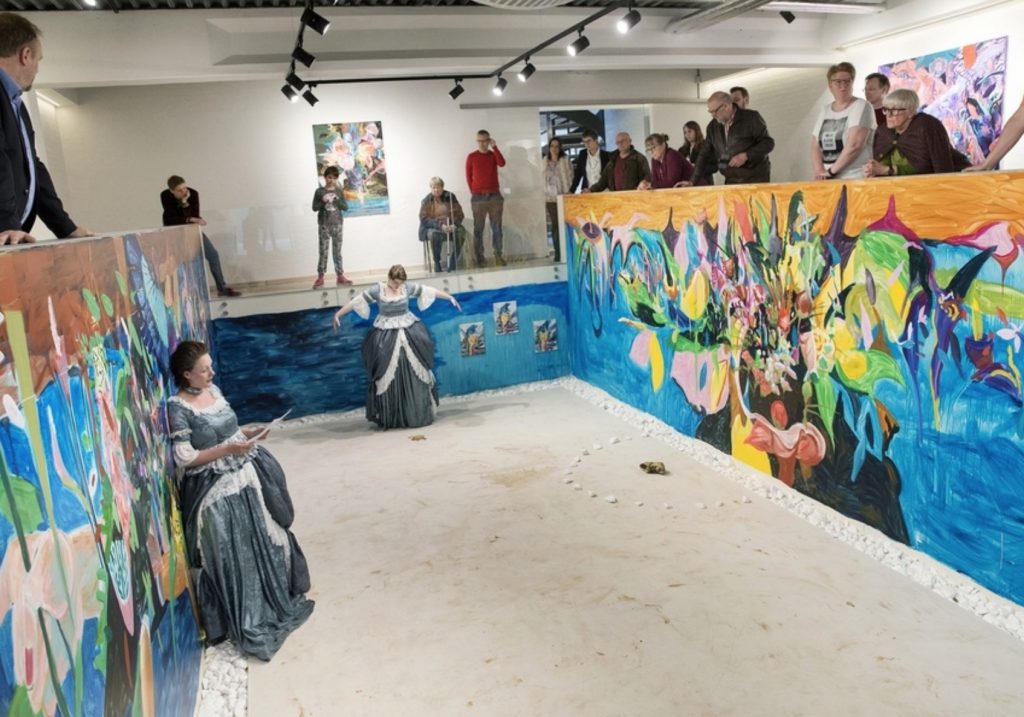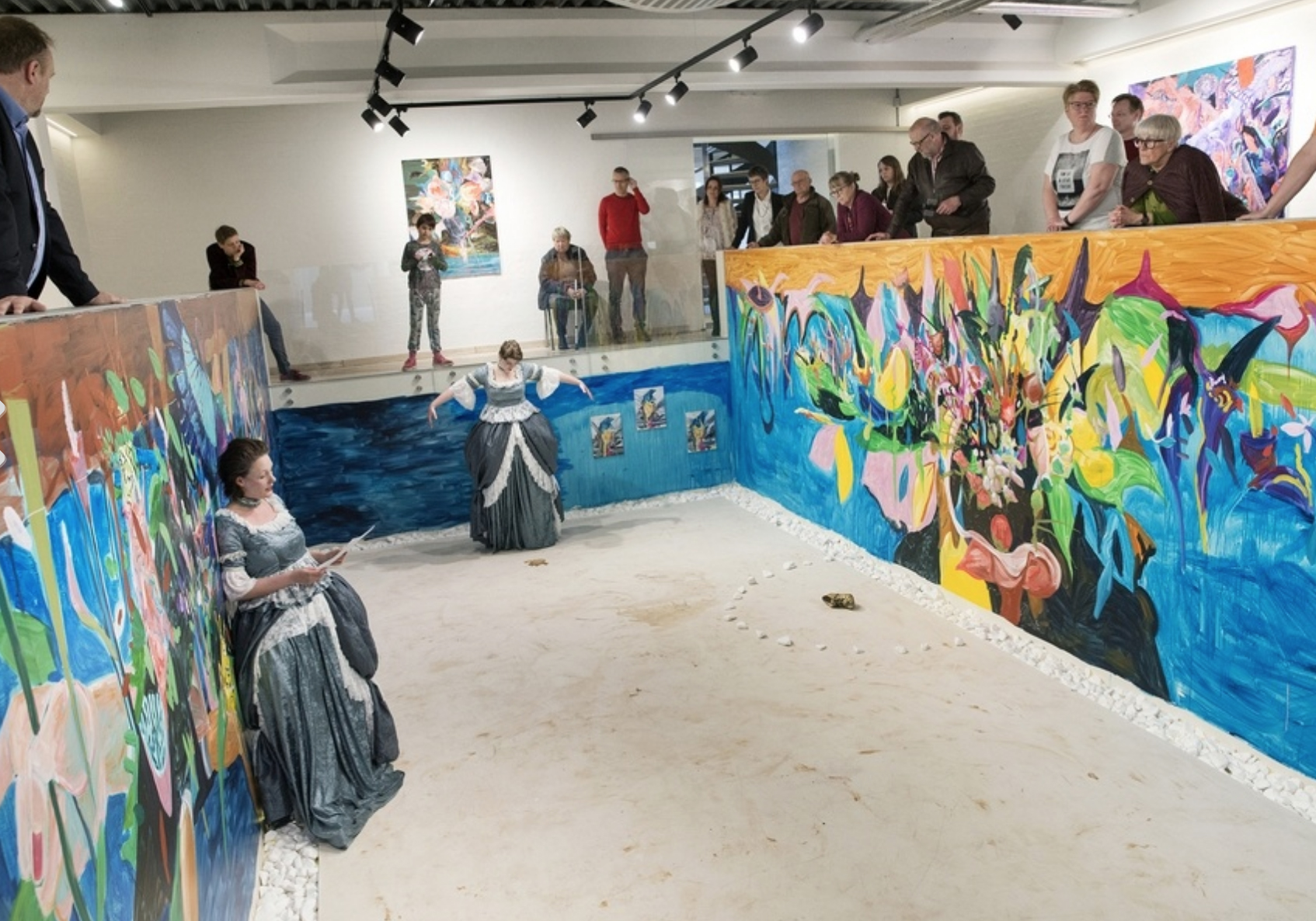 I am researching the relation between the painting, the body and the space. Performative reading from Gallery Rozart (2018) in a painting installation.
Creating has been in my blood from my early childhood
Ever since my early childhood drawing was a natural way for me to play and respond to the world. My mother suffered from paranoid skizophrenia which caused a lot of frustrations, and soon I learned that I could use the white paper as my 'get-a-way'; the paper became my sacred square in the universe where I could always travel to in both my mind and with my hands. Using my own imagination as markmaking on the paper became my greatest pleasure, and allowed me a free space to immerse myself uninterrupted with the challenges that came from an upbringing having a parent being severe mental ill.
Later I also started to write, and I kept a journal next to my bed for many years. I confided in letters and found a way for me to express all the chaos I was surrounded by. Stories also became a way for me to use my imagination, and for many years both myself and my family believed that I would become an author.
In my twenties I I often said that the only reason for me not being mentally ill was due to drawing and writing. Today I believe this is true. Creating has been, and will always be a very personal need of existence.
During my upbringing I was always told to do what I love the most
My mother and my father had no expectations to me and my career. All they wished for me was that I worked with something that I love.

However, none in my family are artists, they are all from the lover middleclass, why I did not have a rolemodel to guide me trough the practicalities of establishing yourself as an artist. One matter is to love creating, a totally different matter is to make it as a professional artist.
Luckily I met some very good art teachers who introduced me to the idea of taking my creations to 'an other level'. They encouraged me to apply for art schools. I had very little faith in my own talents, and I also wanted to earn money. A lot of money, could I do that as an author or an artist? No, I told myself. I come from a very poor background, and I was sick and tired of money always being an issue in our family. We rarely had enough to take us through the month, new clothings were seldom and bills often were unpaid. I truly believed that if I earned a lot of money things would change to the better, the atmosphere in my home would tranform into a safe and warm environment, so I did a degree in IT.
I did earn a lot of money. But then my mother died. I was 25 years old at the time. Her death was a true 'carpe diem' experience. I was not happy, and did I not promise my parents that what ever I chose to work with I should be happy? I hated working in the IT, I missed creating without the concern of clients expectations, I was longing to fully immerse myself in drawing, painting and writing again.
So I spent two years preparing myself entering an art school
I am born and raised in Denmark near Copenhagen, but Goldsmiths in London was a dream for me to be accepted to. I applied once and was accepted. What! Today I am still in chock about this, as I at the interview actually smashed the door on my way out screaming. I got so angry with the interview about a misunderstanding about an artist's art work. They claimed it was an artist who created it, and I knew it was an other artist. So I basically told them that I was not interested in studying at a place with such ignorant people! (Over the years I have also learned to be less tempered.)
When they actually did call me and offered me a place I answered with no hesitation:

Wonderfull, I will see you soon.
Goldsmiths was a great place to study art
Goldmiths changed everything.
Firstly, it is located in London, and I therefore had access to an International and diverse art scene with exhibitions and events to a scale which is impossible to offer in a small city as Copenhagen.
Secondly, few students had an interest in paintings. Painting had always been my main interest, eventhough I also write, draw, perform and create installations, painting is the core of everything I create.
By studying with students who had little interest in the same media as me forced me to speak and communicate about painting in a total different way than if they had all been painters. It was difficult, but it was the best education. Even today, a decade after my graduation, I still have conversations and reflections about my art practice from my time at Goldsmiths, and I believe that this is the best way to form an artist. It sure did help me to understand not only the way my artworks looked, but also what the content was about.
I have always been inspired by my own personal material
My mother's paranoid skizophrenia served me as an inspiration for many years. Not so much that 'this is so sorry for me'. It was more an interest in the human's mind ability to imagine, as I always had to also navigate in the world only she saw and imagined. The subconscious thous became my interest, and I created a large number of paintings with archetypes and symbols of the subconscious mind.

In my more recent paintings I am creating what I would like to call 'mindmaps'. In these an abstract language is evident, and leave the spectator with an atmosphere from an internal landscape, rather than a narrative scene. Today I am pushing this even further.
As an artist I believe the importance of continuing experimenting and being curios on my own artworks. I always say that my artwork are more clever than me, why I constantly will need to give them my full awareness in order for me to complete them.
It is a wonderful journey. I have been working with art institutions and galleries in Europe, creating a number of public sitespecific paintings and am now addressing my texts as litterature. It is demanding, and can at times be very difficult, but I love every minute of it where I on a day-to-day basis work in my studio in Copenhagen.

If you are interested in seeing my artwork then please sign up for my newsletter here to be updated on events and exhibitions, or visit me in my studio by sending an email to: contactmianelle (at) gmail (dot) com.

You are warmly welcome.