Written by Vera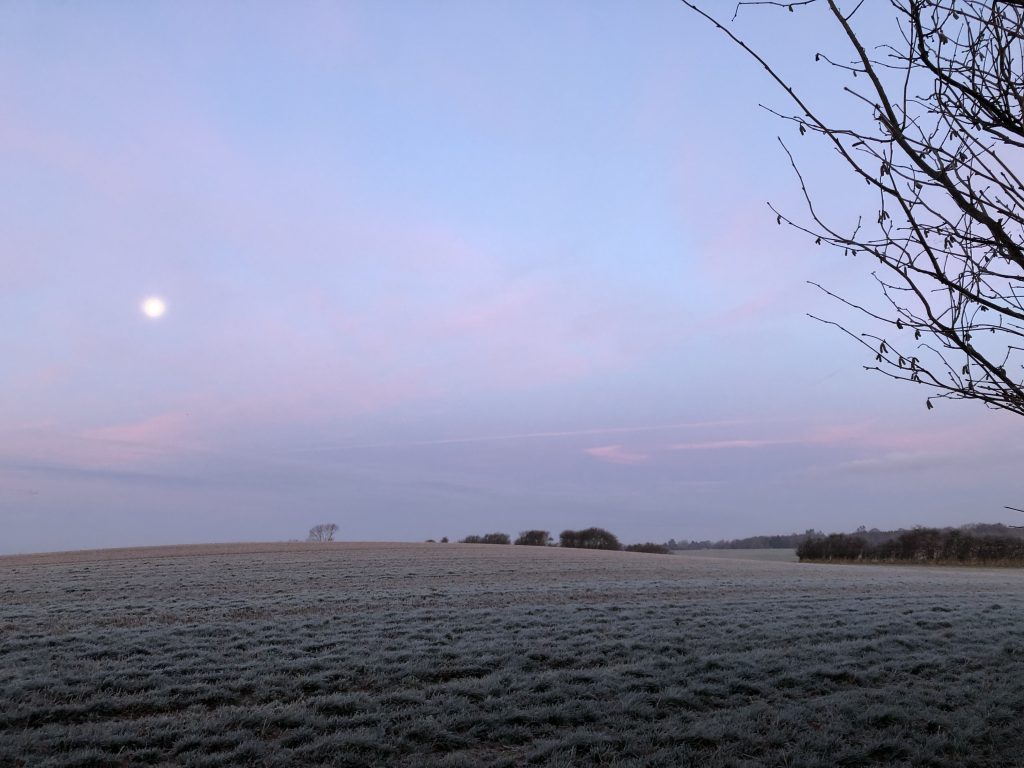 Morgen. Græsset er hvidt . Mine sorte træsko træder på det, det knitrer. Månen står lavt på himlen, solen ligeså. Månens lys er kraftig, det rammer mit solar plexus, herfra kan jeg mærke dens kraft, solen har min ryg, den kan jeg læne mig op ad, som månen tiltager i sin styrke. Jeg falder ingen steder. Endelig overgiver min krop sig til det der er. Ikke til det jeg gerne vil have. Jeg er lige her på det rette sted, hjemme.

Min krop sænker sig på træstolen under det gamle egetræ, det ser så sort ud i dag, burde det ikke være mere brunt?

Jeg tænker på den musvåge som sad på landevejen da jeg kom kørende i min bil i går. Den stirrede på mig og flyttede sig ikke, selvom jeg langsomt kørte nærmere. Hvad vil du mig, hviskede jeg med rattet i mellen mine hænder. Jeg stoppede helt op. Kun min vejrtrækning var at høre. Hvad vil du mig, hviskede jeg igen. Musvågens næb vendte mod min næse, vores blikke slap ikke, jeg stirrede dybt ind i et par sorte øjne, tag mig med hviskede jeg, den lettede tungt, drejede mod højre og forsvandt ind over skovens trætoppe. Jeg satte bilen i gang, motoren brummede under mig, det var ikke ørn, nej, det var ikke en ørn, det var en musvåge. Hvorfor var det ikke en ørn? En ørn er et bedre tegn end en musvåge. Mit svælg strammede til, mit spyt sad fast i struben. Tegnet kendte jeg, men jeg ville ikke kende det.

En musvåge hænger på himlen i sine egen vingers styrke, fra lang afstand holder den øje med jorden, selv den mindste mus kan den øjne, på den lange afstand, i et huk styrtdykker den og fanger sit bytte, æder, død, jeg gider ikke mere.
Morning. The grass is white. My black clogs step on it, it crackles. The moon is low in the sky, as is the sun. The light of the moon is powerful, it hits my solar plexus, from here I can feel its power, the sun has my back, I can lean on it as the moon increases in its strength. I fall nowhere. Finally, my body surrenders to what is. Not for what I want. I am right here in the right place, at home.

My body lowers on the wooden chair under the old oak tree, it looks so black today, should it not be more brown?

I am thinking of the buzzard who was sitting on the road when I came driving in my car yesterday. It stared at me and did not move, even though I was slowly driving closer. What do you want me, I whispered with the steering wheel in between my hands. I stopped completely. Only my breathing was to hear. What do you want from me, I whispered again. The beak of the buzzard turned towards my nose, our eyes did not let go, I stared deep into a pair of black eyes,

PLEASE TAKE ME WITH YOU I whispered, it eased heavily, turned to the right and disappeared over the treetops of the forest. I started the car, the engine hummed under me, it was not an eagle, no, it was not an eagle, it was a buzzard. Why was it not an eagle? An eagle is a better sign than a buzzard. My throat tightened, my saliva stuck in my throat. I knew the sign, but I did not want to know it.

A buzzard hangs in the sky in the strength of its own wings, from a long distance it keeps an eye on the earth, even the smallest mouse can it see at a long distance, in a squat it plunges and catches its prey, eats , dead, I do not want anymore.