Artist statement 2020

In an era dominated by technical-scientific thought and the growing supremacy of the
machine, I find it important to 'reconnect' with human beings as spiritual beings, which is
why a spiritual practice is of great importance in my personal life. I am now experimenting
with, how (and if) I can integrate this into the artistic methods applied in my practice as
well as in my artistic form with the final pieces?
I define 'the spiritual' by an individual, eclectic approach to a spiritual search which has
certain commonalities with religions, but is not defined by such.

I am interested in painting
having had such a great importance in both a spiritual and religious context throughout
art history. Based upon this interest I have been researching, among other periods, in
Etruscan image-making by travelling to Triclinium in Italy, where I have spent a lot of time
inside the Etruscan Tombs allowing my own body and senses to experience the wall
paintings dated 650 Bc. On returning to my studio I responded to this experience by
creating large-scale paintings, among others A Tribute To Life currently installed at The
Danish Institute in Rome. I found myself preoccupied with the expressive, coloristic and
figurative paintings carried out in an immediate intuitive response. 


My research also brought me to Rome, where I, over a period of three years, spent
months immersed in the large number of religious paintings and frescoes of the Catholic
Church. I continued to develop figurative paintings based upon these experiences.
I work with painting, wallpainting, performance and text often combining these media in a scenegraphic installation.
INSTALLATION VIEWS
In 2010 I graduated from Goldsmiths Fine Art in London and have been exhibiting in a number of galleries and museums. I believe that context matters why I in many of my exhibitions am seeking to engage the entire room in which the paintings are installed to extend the narrative of the painting… READ MORE
PAINTING

In my most recent series of work 'Angles And Demons' I have been seeking to unfold my personal experiences from my spiritual practice by using elements from meditation and visualisation. This process has resulted in an abstract visual language. I have dissolved the figurative… .… READ MORE
WALLPAINTING
Based upon my research in a number of frescos and wallpaintings in Italy I myself carry out sitespecific wallpaintings in which monumental coloristic narratives unfold. Most recently I created a 56 meter long painting inside a tunnel as a public outdoor commision for…READ MORE
DRAWING
I draw alongside my texts, they seem to be following hand in hand like siblings. Often I depict myself in underwear staging myself in scenaries inspired by my inner and outer life. They are existential reflections created in the medium ink on paper. They are both personal stories connecting with the universal… READ MORE
TEXT AND PERFORMANCE
Would you please do an artisttalk? How many times have I not been asked to do an artisttalk during one of my exhibitions? Well. Many. Yes and no, I reply. I will do a talk, but I will do so as a reading performed as one of my alter egos. Surely I can talk about my art, but only if it is done in a poetic setting… READ MORE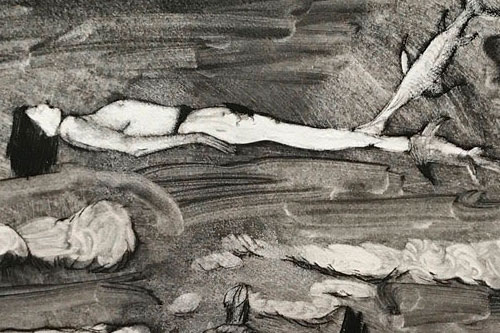 PRINT
In the autumn 2019 I spent two months at The Danish Institute in Rome to experiment with my black and white drawings. I wanted to see if I could develop them into prints. In the printworkshop (and I very nice one indeed) I made an attempt, one after the other. I had not produced a print since elementary school… READ MORE