SELECTION OF PERFORMANCES
I perform poetic readings, sometimes dressed up as one of my alter egos. The readings are all based upon my texts, which are personal stories reflecting on existentialism.
THE WOMAN FROM VEDBÆK
The Danish National Museum / 2020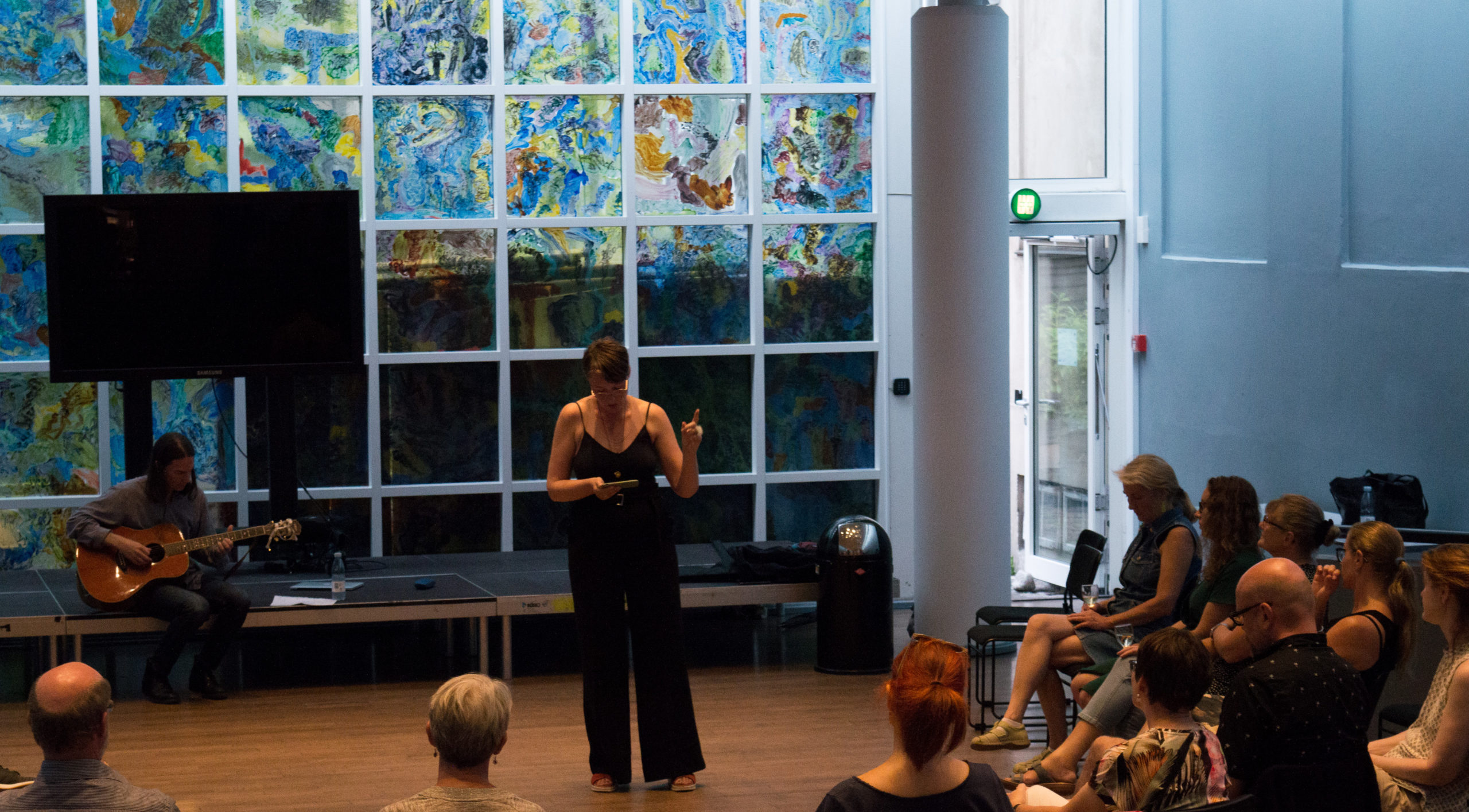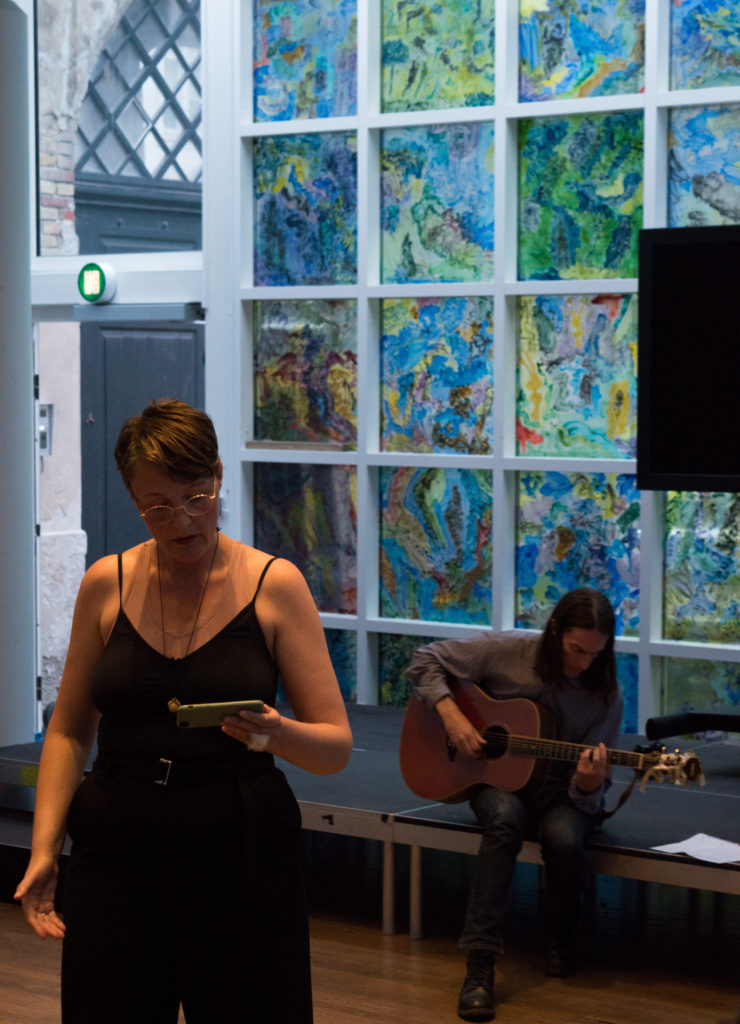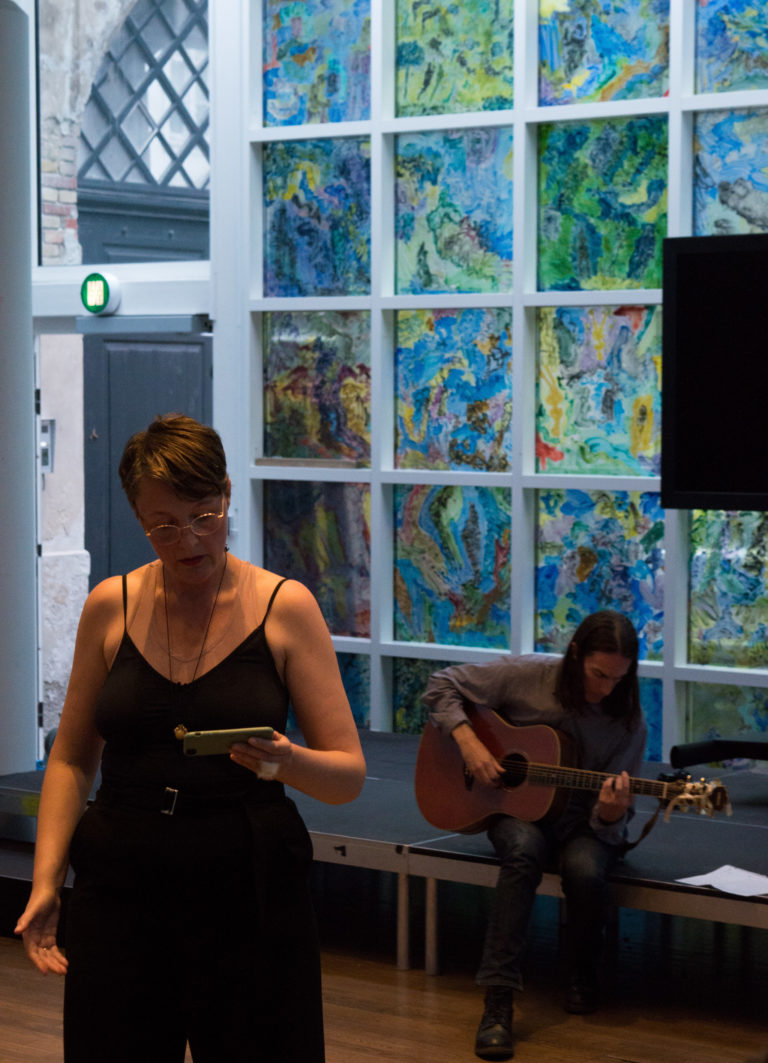 Photographer: Trine Berg
DESCRIPTION OF THE WOMAN FROM VEDBÆK
Poetic reading performance. The musician Marting Klingman and I performed without knowing what the other person were doing. I started reading in Danish, he started playing the guitar. He did not understand my words, so we followed each others rythms as a gesture of the recent lockdown where we are all trying to find a new rhythm again.
DESCRIPTION OF MISS LEMON PERFORMANCE
At the opening for ´I do art, ergo I am´ at Marienlyst Slot curated by Pernille Harbo Caspersen I made a performance Miss Lemon. I was dressed as one of my alter egos, during the first hour I sat complete still by a table set for tea. Then I moved in slowmotion trying to fit together six pieces of the traditional Danish Cake Lemonmoon (Citrinmåne) Once succeeded everything exploded…
DESCRIPTION OF PERFORMANCE HAUNTED
Inside an an abounded house at the previous airbase Værløse in Denmark I did a performance to a reading of mine played out in speakers, I myself dancing absurdly behind a plastic curtain in the window.
DESCRPTION OF IT IS ALL ABOUT ME PERFORMANCE
For my soloshow at Gallery Rozart in Ikast in Denmark I covered all the walls inside an empty swimmingpool with paintings, followed by a performance with my fictive twin sister. I made a reading while we were dancing around in a pool with no water.
DESCRIPTION OF MY DREAMS
Inside a three room painting installation in Norske Huset at Sophienholm I made a performative reading alongside my imaginative twin sister I invited the visitors for some tea and cake. The readings were memories from my childhood where I often visited my grandparents who was living and working as cleaners at Frederiskborg Castle. It became a narrative of a woman pendling in between imagination and memory not knowing what was real or not.
DESCRIPTION OF MISS BLUE
During an opening at Gallery BLVRD156 I made a performance Miss Blue dressed as one my alter egos. For an hour I was moving very quickly in the space of the gallery without a word. Then I sat down for another hour with a python around my neck.