SEPTEMBER 2020

Currently I am immersing myself in writing and drawing in my studio in Copenhagen, as part of preparing two groupshows in Danish art museums at the beginning of 2021.

Due to the Covid-19 situation I will keep you posted on when and where.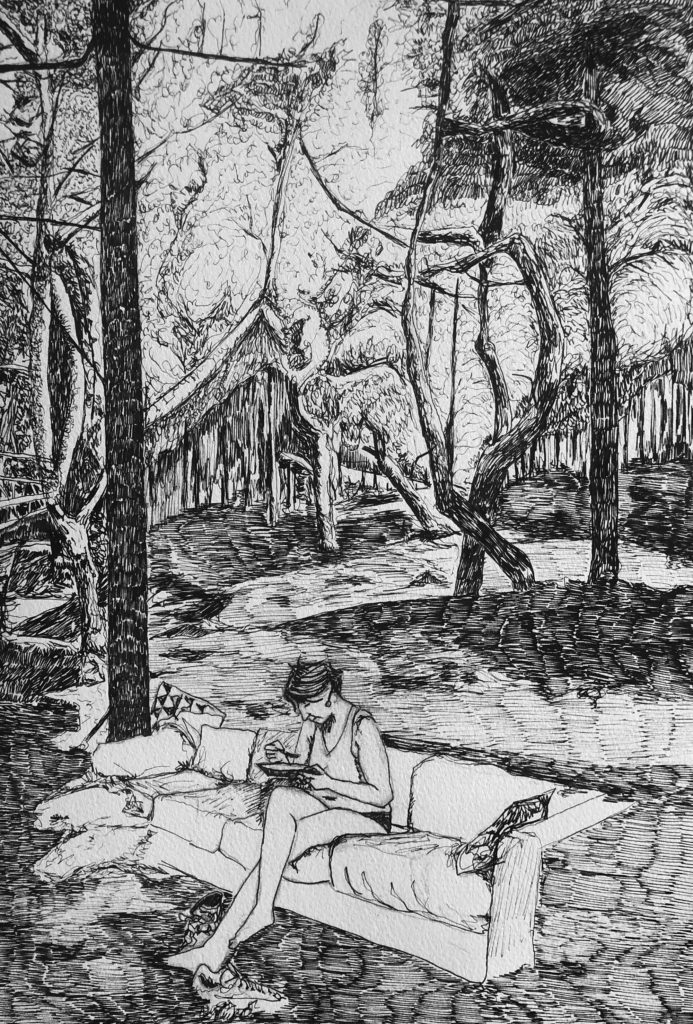 PROCRASTINATION
My biggest fear is getting in the way of myself
Ink on paper
42 cm x 30 cm
2020
---
OFFICIAL OPENING OF PUBLIC PAINTING COMMISION FOR ELSINORE COUNCIL
SEPTEMBER 2020

On September 9 my public painting commission was official opened. It consists of two 26 meter paintings inside a tunnel.

The project is financially supported by the Ministry of Culture and Helsingør Municipality.

Thank you.

Read press release here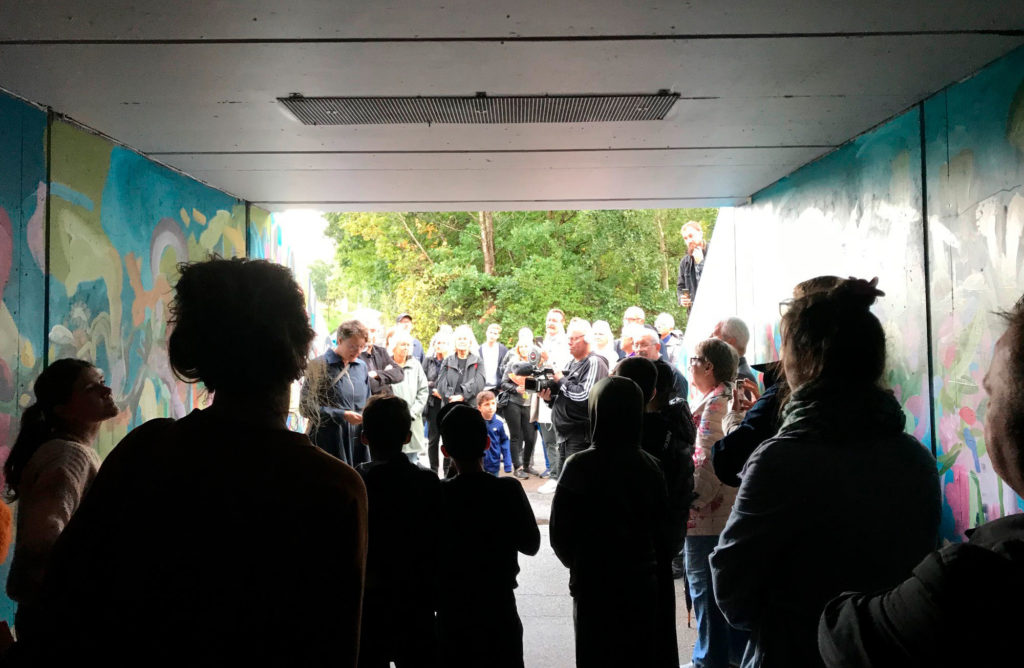 ---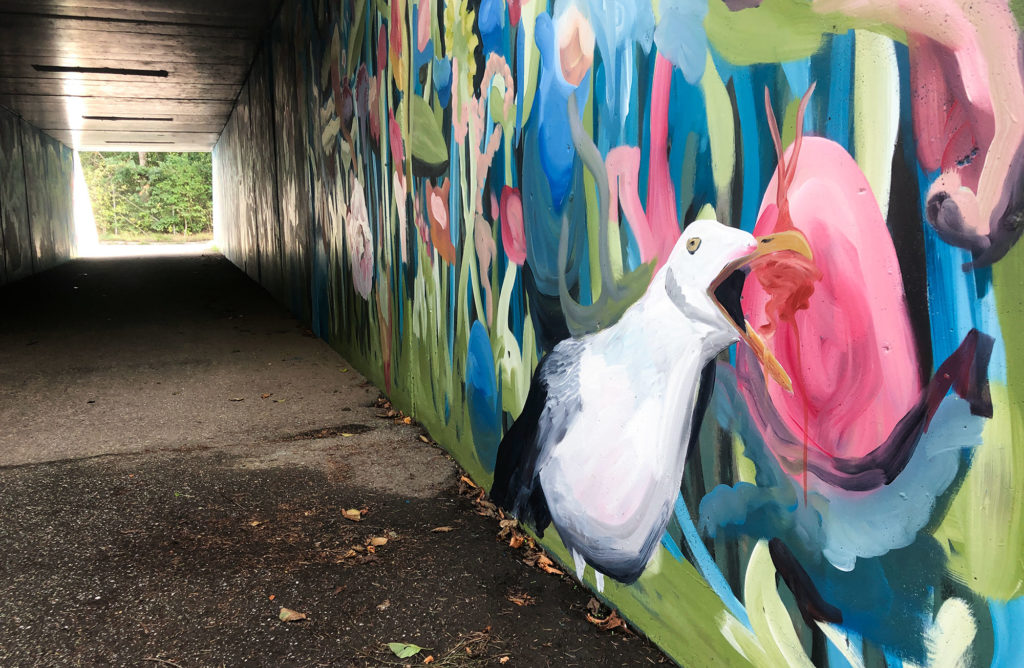 ---
RECENTLY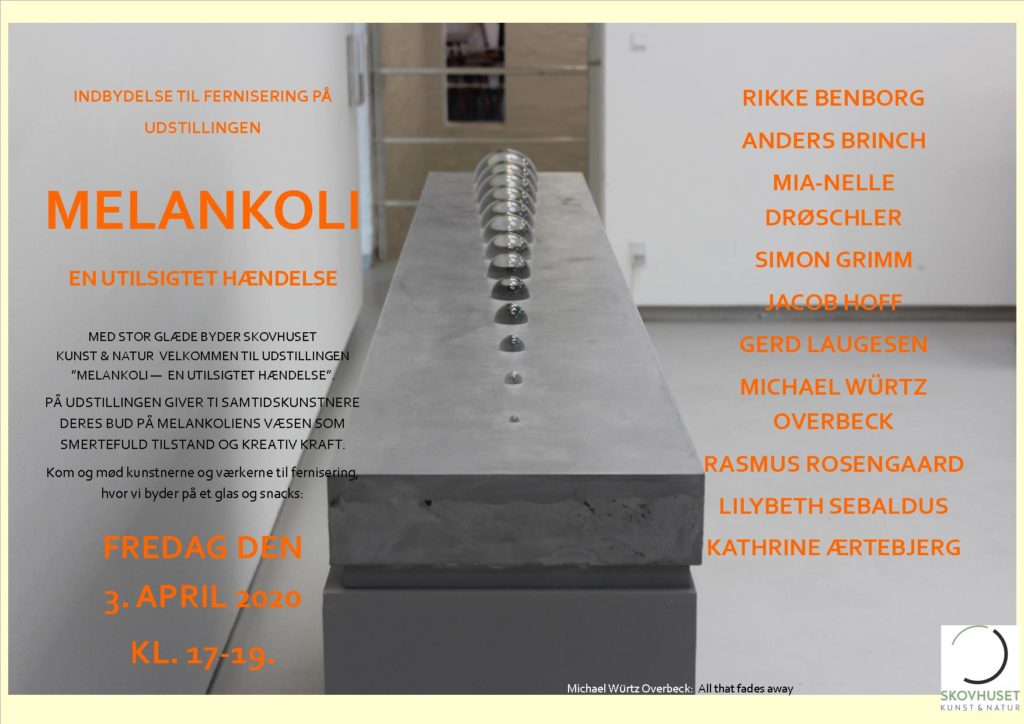 Read art review by Mathias Kryger in Politiken, DK – August 2020
http://www.mianelle.com/mathias-kruger-in-politiken/


RIKKE BENBORG, ANDERS BRINCH, MIA-NELLE DRØSCHLER, SIMON GRIMM, JACOB HOFF, GERD LAUGESEN, MICHAEL WÜRTZ OVERBECK, RASMUS ROSENGAARD, LILYBETH SEBALDUS KATHRINE ÆRTEBJERG
In Melancholy – An Accidental Event, ten visual artists have set out to investigate and portray melancholy in 2020. Has melancholy today become an unequivocally negative phenomenon, or does it still hold a significant impetus for creativity, as previously thought?
Melancholy and its introverted focus on the painful aspects of life have been described in medicine, philosophy and psychology since ancient times. It has been called a mood or temper, but melancholy is also on the verge of depression and has been considered a mental imbalance.
The link to despair, but also curiosity and inspiration may be the reason why it is in the art that melancholy has found its most striking expression. Here, the melancholy with its dual nature and slightly privileged form of depression has been seen as a creative act that, after a difficult start, leads to inspired works of art.
But has this more romantic view of melancholy been replaced today by the unromantic depression? asks the exhibition, with a reference to the American author, Susan Sontag's essay "Illness as Metaphor". And has it become an unwelcome condition to guard against, e.g. through medication, mindfulness or a new partner? In the same way that people in the care sector talk about "unintended incidents" when something differs from normal and which is reported so that the incident in question can be avoided in the future.
The exhibition presents an interesting circle of contemporary artists who, through the works, grasp a current conversation about the melancholy of life and as a liberating force in art and nature. Perhaps particularly relevant in light of the COVID-19 and the severe psychological pressure brought by the pandemic, followed by a hope for a better future where creativity will undoubtedly play an important role.
The exhibition is curated by Jacob Hoff, Lilybeth Sebaldus and Simon Grimm.


DUE TO THE COVID-19 SITUATION THERE IS NO SCHEDULED PRIVATE VIEW


Skovhuset
Ballerupvej 60
3500 Værløse
https://www.skovhus-kunst.dk/
---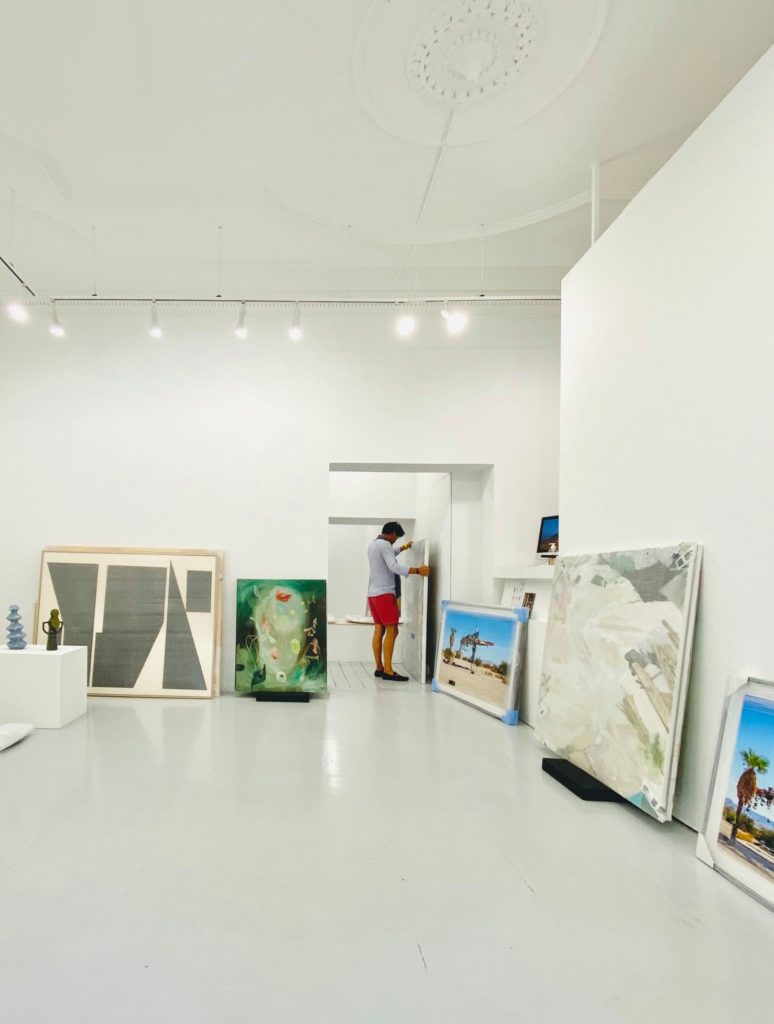 SUMMERTIME '20

GRAND OPENINGFRIDAY JUNE 19TH FROM 4 TO 8 PM

19.06.-08.08.2020
I am very pleased to invite you for gallery Egelunds annual summer exhibition. I am showing paintings along side a number of great contemporary artists.
SUMMERTIME '20 – THE ANNUAL GROUP SHOW 16TH EDITION
ANDERS MOSEHOLM (DK), ARMANDO MARINO (CU), CARSTEN BECK (DK), CHARLOTTE NEEL RITTO (DK), CHRISTOFFER JOERGENSEN (CH/DK), CRYSTEL CERESA (CH), CURRENT EXHIBITION, EAMON O'KANE (IE), EKIN SU KOC (TR), EVA LOUISE BUUS (DK), JES BRINCH (DK), JONAS PIHL (DK), KIRSA ANDREASEN (DK), KRISTA ROSENKILDE (DK), LARS SARTO HEMPLER (DK), LINE BUSCH (DK), LOUISE LANGGAARD (DK), MADS RAFTE HEIN (DK), MARCO EVARISTTI (DK/CL), MAZJA HILLESTRØM (DK), MIA-NELLE DROESCHLER (DK), MIKKEL OLAF ESKILDSEN (DK), NIELS CORFITZEN (DK), RENÉ HOLM (DK), SJULLE SCHULSTAD (DK), SÖREN HÜTTEL (DK), SØREN HAGEN (DK), STEEN IPSEN (DK), STEINUNN THÓRARINSDÓTTIR (IS), THIERRY FEUZ (AU/CH), TILDE GRYNNERUP (DK), WILLI TOMES (DE), YUICHI HIRAKO (JP)
Bredgade 75
DK-1260 Copenhagen K