ARTIST STATEMENT 2021
The human mind has fascinated me since my early childhood, when I grew up with a paranoid schizophrenic mother. The paths, detours and shortcuts of the mind have therefore always been, and still are, the focal point of all my works.
How can retinal images be transferred to pigment on canvas? (Painting) What moods in the mind can be expressed in body? (Performance) Can poetry for an inner world become a contact to 'something' in you, me or others that can connect us? (Drawing and text).
I examine this in my practice, where different media coexist, together and separately. It is the message that dictates the medium.
Site specific art projects 'Now Holger Danske Needs To Wake Up', for example, involve the creation of a public large-scale painting. At the end of the creation I perform a multidisciplinary ceremony (involving music, movement, vocalizing) where I strive to engage the audience in the experience, which is also evident in wall paintings in museums. In these museums works the audience is witnessing the destruction of the artwork at the end of the exhibition period.
Critical to much of my work is raising awareness of important social and mental issues. My preferred way of doing this is by collaborating with the public through interactive works – such as the Tunnel, – which also serve to empower participants as we address difficult topics that are often not talked about openly on a broad scale, such as self destruction and fear.
Art has the power to transform and heal. I have not only experienced it myself, but have seen it happen before my eyes. By collaborating on public art projects with locals and with audience in museums, we are meeting at the intersection of the individual experience and democratically solutions, a place where we come out of isolation and into community, to examine the personal and political aspects, and a space where innovative and effective solutions can emerge.
My research also involves delving deeper into the history of the painting, among others I have spent six months in Rome over the period of three years to study frescos and ceiling paintings in the Catholic church to closely study the mind in relation of painting, architecture and body.
I have always strived to create a balance in between the abstract and the figurative. In the early paintings the figuration had a greater impact than today, where I made use of archetypes and symbols to create 'mind images' from an internal world. In 2018 I went to the residence Bethanien in Germany to study the German abstract expressionistic paintings, which became a turning point in my painting practice by tranformning them into a stronger abstract language.
Interestingly, black and white drawings arose alongside this new body of abstract work, in these reflections upon the inner nature of the humans mind and mentality are also evident.
If you are interested to read more please go to About Me here >>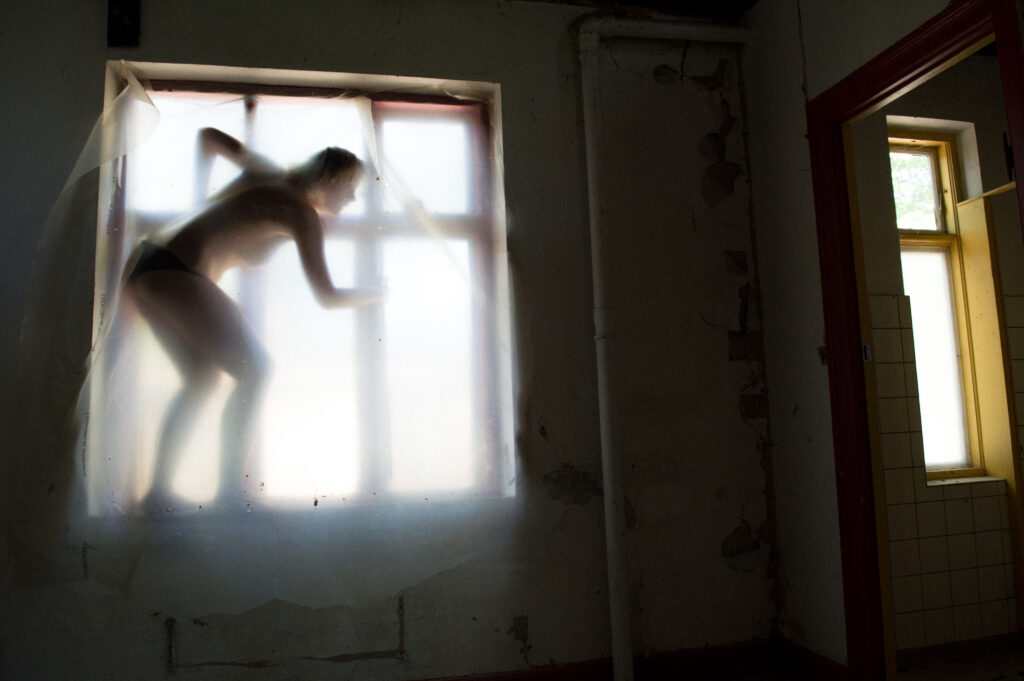 From performance 'Haunted' inside an abounded house at Filmstationen, DK, 2019