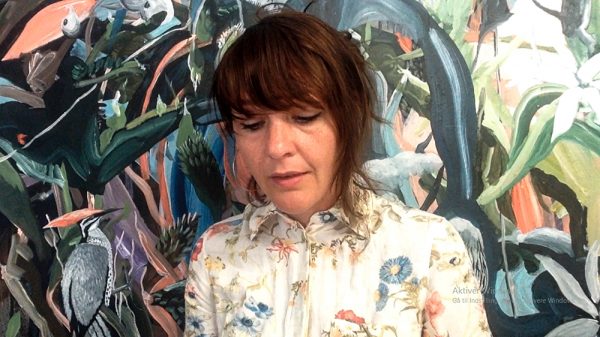 Mia-Nelle Drøschler holds a degree in Fine Art from Goldsmiths,
University of London (2010)
For the past three years she has been living in Copenhagen, Denmark,
after six years in the UK. Drøschler has participated in a number of
group and solo shows in Denmark, England and Scotland. She has
been honored by the British Art Council (2010) and the Danish Art
Council (2010, 2012, 2016, 2017) Queen Ingrid's Roman Fund (2016, 2017)
Montana Kunstfond (2015, 2016) and is a member of BKF.
Artist Statement
I am a painter
In my work I explore the area between the conscious and the unconscious.
A fantastic dreamland occurs in images of the forest, landscapes, trees,
plants and the human body. I strive to create a tension between chaos and
harmony. A paradox between harmonious compositions, with an underlying
disturbing atmosphere. Color and motif can at first glance seem alluring and
seductive, but the disturbing and sinister lurking beneath the surface creeps
forward as the spectator is looking at the work. Therefore, my work has a touch
of doom; a solution of a landscape without gravity.
Painting and collage are my main media, but also text and the site-specific
painting and collage are my practice. I am very driven to 'push' the painting
physical boundaries to be a direct part of the space and context, creating a
total painting installation experience.
It is especially this context between image and space, which I so ardently
examine and experiment with at this current moment
I am a writer
I do also write narrative poetry.
For a few years my texts have only been manifested as performative readings, as I
am interested in giving the words a physical body in a physical space.
Over time a body of work has arisen from this method, which I am currently in
the process of having published.
Selected solo exhibitions
2018 I Am Made Of This, Rozart, Ikast DK
2015 Mia-Nelle, Bredgade Kunsthandel, Copenhagen DK
2015 Four years, Taastrup Cultural Institute, Copenhagen DK
2014 The Island Of Many Dreams, Bie & Vadstrup Gallery, Copenhagen DK
2013 DreamEscapes, Curator Tina Sorensen Danish Cultural Institute, Edinburgh UK
2011 The Forest Within, Curator Joanna Foster, Gallery ARCH402, London UK
Selected group exhibitions
2017 Jeg Tænker Tit På Det / En udstilling om det at være menneske /Boulevard156 Gallery, Copenhagen DK
2017 Corner 2017 (guest artist) Sophienholm, Bagsvaerd DK
2016 D I M E N S I O N - KUNST TUR/RETUR KUNST, Rundetårn, Copenhagen DK
2016 Corner 2016 (guest artist) Sophienholm, Bagsvaerd DK
2015 The Human Body, Viborg International Billboard Painting, Viborg DK
2015 Summer Exhibition, Bredgade Kunsthandel, Copenhagen DK
2014 Lige i skabet, Svends Bibliotek, Copenhagen DK
2013 Winter Exhibition, Bredgade Kunsthandel, Copenhagen DK
2012 The Scope Art Fair, Represented by ARCH402, Miami US
2010 Degreeshow, Goldsmiths, London UK
2009 The Sneeze Art Flair, Westbourne Studios, London UK
2009 Fors show, The Rag Factory, London UK
2007 Det er kunst, Gallery Nakke Hage, Copenhagen DK
2006 KE – Kunstnernes Efterårsudstilling, Den Fri Udstillingsbygning, Juried selection, Copenhagen DK
Commisions
2015 Under Overfladen Er Himlen Altid Blå (Metro DK) Sortedams Søen, Copenhagen DK
Events
2018 Live paint during concert by Marcel Gaul, Præstebo Church, Copenhagen DK
2016 Live paint during concert by Marcel Gaul, Hellig Kors Church, Copenhagen DK
2016 Showcase and reading, Koncertkirken, Copenhagen DK
2015 Poetry Sundays, readings by Sortedams Søen, Copenhagen DK
2014 Et rum. I mellem. Tiden, artevent in an empty house in Valby, Copenhagen DK
Film Works
2016 Svenn
2016 Mette
Grants and residencies
2017 Danish Art Council Work Grant for My Dreams, Sophienholm
2017 Full sponsorship, Dyrup, DK
2017 Full residency, The Danish Institute, Rome, IT
2017 Dronning Ingrids Romerske Fond, DK
2016 Knud Højgaard Art Fund, DK
2016 Danish Art Council Grant warded for We Are Here (Just for a moment), Sophienholm, DK
2016 Full residency, The Danish Institute, Rome, IT
2016 Dronning Ingrids Romerske Fond, DK
2016 Full recidency, The Danish Institute, Athens GR
2015 Production grant, Montana Foundation, DK
2015 Full residency, Klitgaarden, Skagen, DK
2012 Danish Art Council for new web site, DK
2011 British Art Council Grant warded for The Forest Within, Gallery ARCH402, UK.
2011 Full residency Klitgaarden, Skagen, DK
2010 Danish Art Council Grant warded for The Forest Within, Gallery ARCH402, DK