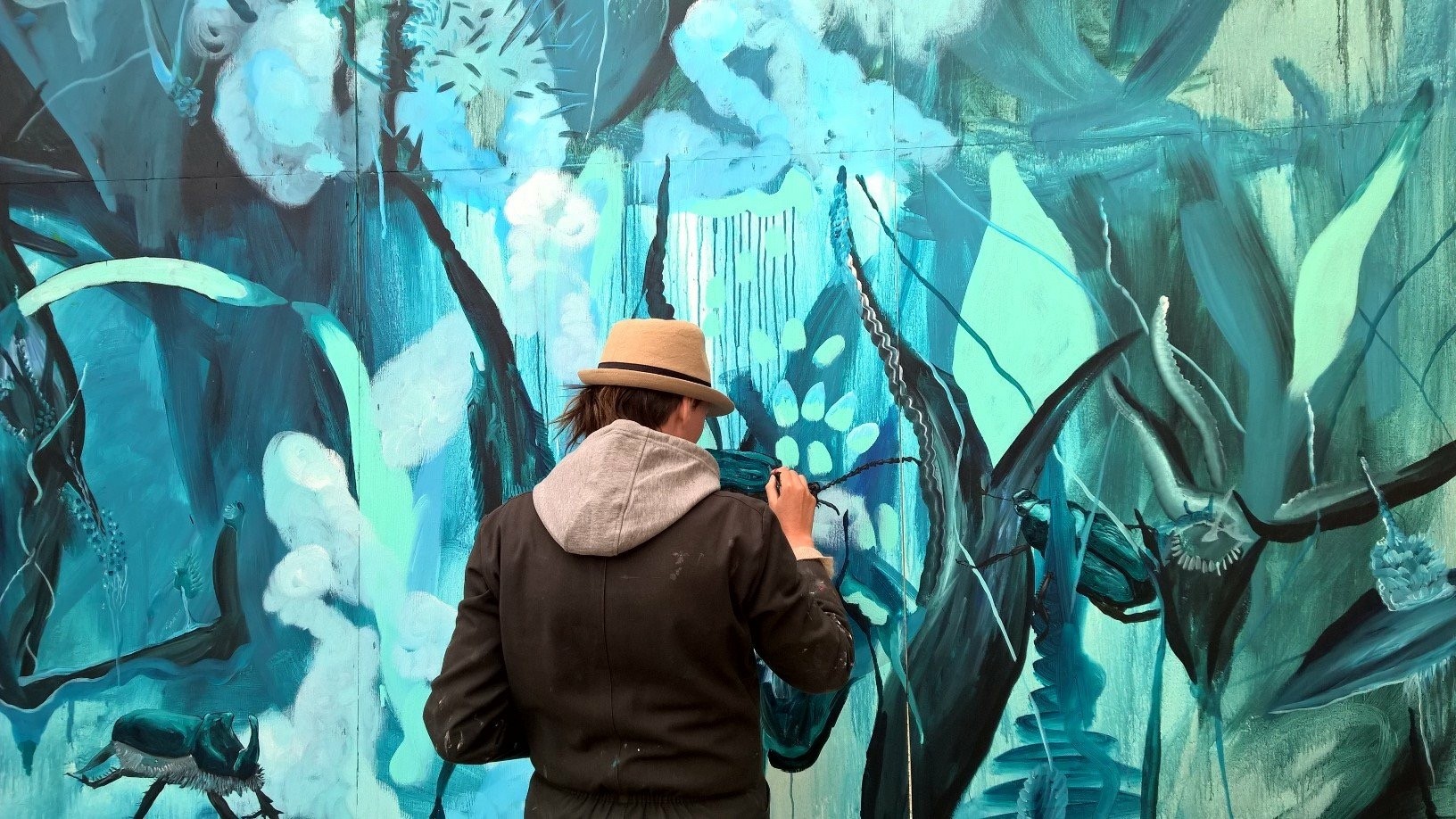 Mia-Nelle Drøschler holds a degree in Fine Art from Goldsmiths, University of London (2010)
For the past four years she has been living in Copenhagen, Denmark,
after six years in the UK. Drøschler has participated in a number of
group and solo shows in Denmark, England and Scotland. She has
been honored by the British Art Council (2010) and the Danish Art
Council (2010, 2012, 2016, 2017) Queen Ingrid's Roman Fund (2016, 2017)
Montana Kunstfond (2015, 2016)  and is a member of BKF.
ARTIST STATEMENT
I work in the interdisciplinary field of painting, installation, performance, sculpture
and text, striving to create an overall experiencing in which both context and art objects relate to each other.
Contemporary expressionism
As Neoexpressionism accounted for the revival of expressionist painting, I believe it is important of a revival of the Neoexpressionism.
It is significant to counter reaction to the intellectual movements such as minimalist and conceptual art that has neglected the art's ability to activate the imagination, and give way to human emotions. Therefore, all my works  are carried out in the intuitive and spontaneous nature.
My gesture in painting, sculptures and installations thus have references to Neoexpressionism, having the figurative as a coherent focus with strong and vibrant colors.
The body is always present
For my exhibitions I consider every wall of the space adding carefully chosen color or painting directly on the wall. I believe that painting can appeal to other senses than just the vision, namely a feeling of one's own body in motion that becomes an integral part of the experience while looking at the painting.
An overall experience
The exhibition thus becomes an overall experience, where the eyes  can look at the painting while the body examines the rest of the room related to it. The movement of the spectators body through this space, where he stops, steps closer and then steps back, becomes an explicit part of the art experience.
Hereby, the spectator becomes an interactive player between the individual work and space. An assertion one can argue are evident in most exhibitions, but in mine it is so pronounced that it is approaching a theatrical setting. The story is played out while the spectator goes from one scene painted in one room to the next scene in the subsequent room.
Memory, subconsciousness and gender
The content are memory, subconsciousness and gender. In the individuel paintings, sculptures, texts and performances I capture volatile and dramatic scenes where memories and dreams collide between past and present. My presentation of my memories often have a dreamlike quality. This implies the idea of ​​memory as colorful ghosts of their original structures.
Further, the woman naked body is a coherent motif of mine, as I am seeking to unfold the female psychology related to her body and context.
CV
Selected solo exhibitions
2018 I Am Made Of This, Rozart, Ikast DK
2018 Running Away, Danish National Museum, Copenhagen DK
2015 Mia-Nelle, Bredgade Kunsthandel, Copenhagen DK
2015 Four years, Taastrup Cultural Institute, Copenhagen DK
2014 The Island Of Many Dreams, Bie & Vadstrup Gallery, Copenhagen DK
2013 DreamEscapes, Curator Tina Sorensen Danish Cultural Institute, Edinburgh UK
2011 The Forest Within, Curator Joanna Foster, Gallery ARCH402, London UK
Selected group exhibitions
2018 The Essence Of Now /Boulevard156 Gallery, Copenhagen DK
2017 Corner 2017 (guest artist) Sophienholm, Bagsvaerd DK
2017 Jeg Tænker Tit På Det / En udstilling om det at være menneske /Boulevard156 Gallery, Copenhagen DK
2016 D I M E N S I O N - KUNST TUR/RETUR KUNST, Rundetårn, Copenhagen DK
2016 Corner 2016 (guest artist) Sophienholm, Bagsvaerd DK
2015 The Human Body, Viborg International Billboard Painting, Viborg DK
2015 Summer Exhibition, Bredgade Kunsthandel, Copenhagen DK
2014 Lige i skabet, Svends Bibliotek, Copenhagen DK
2013 Winter Exhibition, Bredgade Kunsthandel, Copenhagen DK
2012 The Scope Art Fair, Represented by ARCH402, Miami US
2010 Degreeshow, Goldsmiths, London UK
2009 The Sneeze Art Flair, Westbourne Studios, London UK
2009 Fors show, The Rag Factory, London UK
2007 Det er kunst, Gallery Nakke Hage, Copenhagen DK
2006 KE – Kunstnernes Efterårsudstilling, Den Fri Udstillingsbygning, Juried selection, Copenhagen DK
Commisions
2015 Under Overfladen Er Himlen Altid Blå (Metro DK) Sortedams Søen, Copenhagen DK
Performances
2018 Live paint during concert by Marcel Gaul, Præstebo Church, Copenhagen DK
2018 Tea-party, Sophienholm, Copenhagen DK
2017 Madam Blue,BLVD 156 Gallery, Copenhagen DK
2016 Live paint during concert by Marcel Gaul, Hellig Kors Church, Copenhagen DK
2016 Showcase and reading, Koncertkirken, Copenhagen DK
2015 Poetry Sundays, readings by Sortedams Søen, Copenhagen DK
2014 Et rum. I mellem. Tiden, artevent in an empty house in Valby, Copenhagen DK
Film Works
2016 Svenn (28 min)
2016 Mette (28 min)
Grants and residencies
2018 Danish Art Council for residency at Künstlerhaus Bethanien, DE
2018 Production grant, Montana Foundation, DK
2018 Residency, Künstlerhaus Bethanien, DE
2017 Danish Art Council Work Grant for My Dreams, Sophienholm, DK
2017 Full sponsorship, Dyrup, DK
2017 Full residency, The Danish Institute, Rome, IT
2017 Dronning Ingrids Romerske Fond, DK
2016 Knud Højgaard Art Fund, DK
2016 Danish Art Council Grant warded for We Are Here (Just for a moment), Sophienholm, DK
2016 Full residency, The Danish Institute, Rome, IT
2016 Dronning Ingrids Romerske Fond, DK
2016 Full recidency, The Danish Institute, Athens GR
2015 Production grant, Montana Foundation, DK
2015 Full residency, Klitgaarden, Skagen, DK
2012 Danish Art Council for new web site, DK
2011 British Art Council Grant warded for The Forest Within, Gallery ARCH402, UK.
2011 Full residency Klitgaarden, Skagen, DK
2010 Danish Art Council Grant warded for The Forest Within, Gallery ARCH402, DK
Teaching
2010 - present Copenhagen Art School
2010 - present Personal art mentor for a large number of students
2017 - present Artproject in collaboration with the Danish Probation Services for inmates
2016 - Ærø Artschool, guest tutor
2018 - Engelsholm Music and art school, guest tutor